PolyU advances smart cities research and development
Over the past decade, the Government has been striving to build Hong Kong into a world-class smart city by utilising innovative technologies such as AI and big data, and has set out a "Smart City Blueprint for Hong Kong 2.0" under six smart areas, including "Smart Mobility", Smart Living", "Smart Environment", "Smart People", "Smart Government" and "Smart Economy". At PolyU, Smart Cities research remains one of the strategic development areas of the University and hence a Smart Cities Research Institute (SCRI) was founded by the University in 2020. SCRI provides an interdisciplinary platform for experts and brings together academic, industry and government partners to collaborate on cutting-edge smart cities solutions to address various pressing societal needs.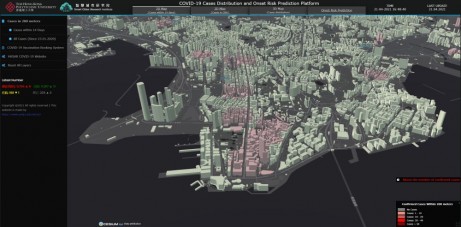 Director of SCRI, Professor Wenzhong Shi, recently discussed in a media briefing the latest achievements of PolyU in developing a comprehensive Smart City solution comprising three key technologies including "Three-dimensional Mobile Mapping System", "AI-based Landslide Recognition" as well as "Spatiotemporal Prediction of COVID-19 Onset Risk". With these advanced solutions in place, PolyU hopes to provide broader and more diversified support on smart cities applications, such as smart environmental management, smart transport optimisation and smart citizen services, making Hong Kong an even smarter and more livable city for all.
Take a look at the below media reports to find out more about PolyU's Smart Cities research achievements: