Joining hands with community to design elderly-friendly trolley
In Hong Kong, it is not uncommon for some elderly to eke out a living by recycling cardboard scraps. Elderly waste pickers may find it difficult to lift up the commonly used trolleys to kerbs and navigate them on the road, thus often resulting in injuries. In view of this, the PolyU Jockey Club "Operation SoInno" launched by the University's Jockey Club Design Institute for Social Innovation initiated the project "Empathising with elderly in workplace" to help alleviate the situation. People from various disciplines came together to innovate and improve the design of the iron trolleys on the market so as to make it safer for use and more labour saving.
The making of trolley prototype
The project commenced with a three-day workshop on "Social Innovation Design for Waste Pickers" for the public to discuss on ways to improve the existing trolleys for waste pickers. With the assistance of the community organisation Waste Pickers Platform, participants observed and conducted interviews with the elderly waste pickers to understand their practical needs and difficulties. After that, workshop participants formed a public design team to explore the feasibility of various trolley design concepts, and joined hands to develop the below trolley prototype.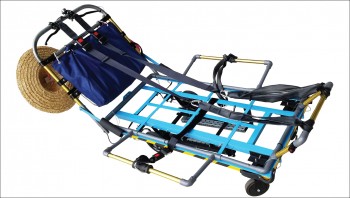 Down-to-earth trolley design
Main design features:
- Roller tracks to facilitate lifting up to kerbs
- Caster front wheels for easy navigation
- Rear wheels with brake function
- Foldable extension frame to stabilise and maintain balance of cardboard
- Seat belts to fasten the cardboard
- Burglar alarm
Two scavengers tested out the newly designed trolley for a month. They opined that it is good for going uphill and easy to navigate. They also found that the brake function, the alarm and seat belt for fastening the cardboards are very useful.
Future plans
The trolley design has been further modified based on the users' feedback. Currently, the project team has produced four trolleys at the cost of around HK$3,000 each. In the coming year, these new trolleys will be distributed to scavengers via the Waste Pickers Platform for user tests in various districts.