Innovations to improve daily life of the disabled
At the 13th International Convention on Rehabilitation Engineering and Assistive Technology (i-CREATe 2019), two occupational therapy student teams from the Department of Rehabilitation Sciences won gold and bronze awards in the Global Student Innovation Challenge (Design Category). Their user-centered designs provided creative solutions to support the rehabilitation of people with disabilities.
Gold Award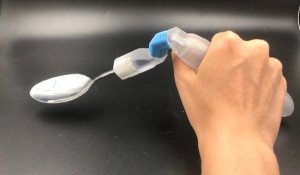 Snaker Spoon
Team members: Ivan Chan Wai-dik, Iris Yan Oi-wai, Lulu Lo Ho-yan, Kristy Fung Tsz-ching and Hugo To Hiu-fung
A spoon which allows angle adjustment to meet the needs of those with upper limb disabilities and to aid independent feeding. This design can also be applied to other utensils such as forks or knives.
Bronze Award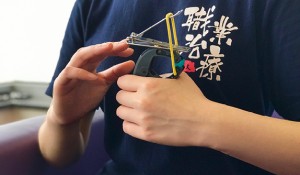 Nailed it!
Team members: Elaine Mo Hoi-yi, Annie Wong Hiu-yan, Monica Chan Mung-ni, Lau Wai-man and Chui Tsz-kwan
A clipper designed to help people with weak pinch strength, poor finger dexterity and arthritis. Users can effortlessly clip nails using a palmar grasp in neutral wrist position, without imposing stress on distal finger joints.