Budding designers explore human thoughts through fashion
Twenty-two graduating students from the Institute of Textiles and Clothing showcased their creative flair at the PolyU Fashion Show 2019. Venus Tsang Cheuk-iu brought home the Overall Grand Award for her design themed "Toumei Ningen" while Nabeel Khaled Hamed Bahri scooped the Hong Kong Intimate Apparel Industries' Association Award for his work titled "ADHD".
Overall Grand Award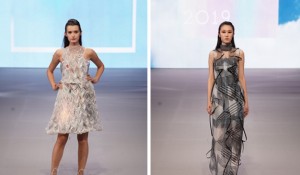 Toumei Ningen
Venus Tsang Cheuk-iu
The term "Toumei Ningen" represents people who have a contradictory personality. Venus' collection features black and white as main colours with multiple layers. She wanted to bring out the effect of the black in the white and vice versa to reflect people with both introvert and extrovert personality traits.
Hong Kong Intimate Apparel Industries' Association Award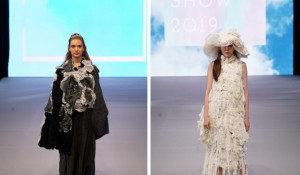 ADHD
Nabeel Khaled Hamed Bahri (Nabi)
Diagnosed with attention deficit hyperactivity disorder (ADHD) since he was a child, Nabi wishes to raise public awareness of ADHD with his graduation collection. His works were made of reflective materials and featured intersecting curved lines and patterns to represent the complex thoughts of patients.