PolyU hosts the first edX Global Forum in Asia to reinvent education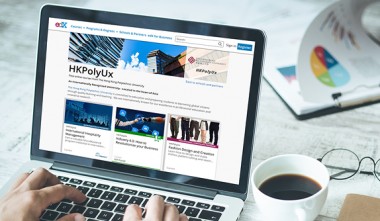 Driven by the desire to enhance students' learning experience through the use of innovative and interactive pedagogies, PolyU has successfully developed Massive Open Online Courses (MOOCs) on the edX platform since 2014.
Having been a longstanding collaborator of edX, actively providing insights and inspiration to support its development, PolyU took on an important strategic role when it became a Contributing Charter Member of edX in 2017. This makes PolyU the first Asian university to have achieved this status within the organisation.
In an exciting initiative for PolyU, edX and PolyU will co-host the first edX Global Forum in Asia from 11-13 November this year, bringing together academics and digital learning experts to exchange and share knowledge on innovative pedagogies and explore the future of education. Distinguished speakers will include Mr Charles Chen Yidan, Co-Founder of Tencent and Founder of The Yidan Prize; Dr Robert Brown, President of Boston University; and Ms Helen Brand, Chief Executive of ACCA, to name just a few.
Recent years have seen a boom in PolyU's MOOCs on edX, with 16 courses covering disciplines spanning business, engineering, hospitality, healthcare, communication, management and philosophy, engaging over 400,000 learners worldwide. PolyU boasts Asia's first ever MicroMasters programme in International Hospitality Management and has recently launched the first ever Professional Certificate Programme in Fashion Design and Creation .