Distinguished Lectures in Humanities: Preferred Colors in Diverse Cultures as Evidenced in their Lexical Frequency and More Topics for Comparison in the Cultural Circle of Chinese Character (漢字文化圈)
Conference/Seminar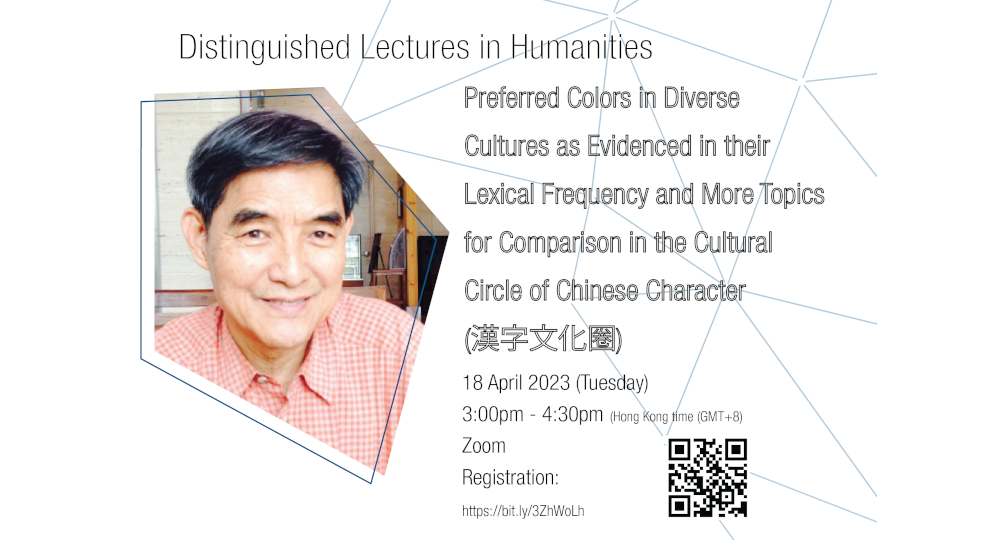 Organiser

Faculty of Humanities, CBS

Venue

Live webinar (Zoom)
Remarks
The talk will be conducted in English.
Summary
Abstract

Color plays a vitally important role in the world. For instance, traffic lights send this universal message. The colors used for a product, business or logo cause powerful reactions. Preferred colors in various cultures reflect the psychological trend of those people. To investigate the favored colors, lexical frequency in their corpora has been checked in the languages with the highest preference of 'black' and 'white', and Eastern & Western languages as well as Korean.

The latter half is about comparison of quadro-syllabic idioms in Chinese, Korean & Japanese and also some more linguistic topics for comparison in the cultural circle of Chinese character (漢字文化圈). 1) Contrastive phonology between Cantonese, Hakka & Sino-Korean, and between Cantonese & Sino-Japanese 2) Morphological analysis of the Sino-Korean words: Comparison to the functional loads of phonetic/phonological constraints and syntactic rules 3) 韓中總合漢字使用頻度 及 韓中日頻度順 對比.


About the speaker

Sang Oak Lee is a Professor Emeritus of Korean Linguistics at Seoul National University and also taught at the University of Sydney (1994-97). In 1973 as a Fulbright-Hays grantee, he entered the University of Illinois at Urbana and received his Ph.D. in 1978. He moved to Cambridge, Massachusetts, to serve for two years as a Research Fellow in the Harvard-Yenching Institute. He was also a grantee of the Humboldt Fellowship during the years of 1985 and 1986 at Munich University, and in 2003 at the Technical University of Berlin. He is interested in phonetics, phonology, morphology, and quantitative linguistics. He has engaged in Korean language instruction to foreign students from 1969 to date. He has also published many books including "Korean Through Chinese", 1993.