RS Summer Programme 2022 (只有英文版本)
會議/講座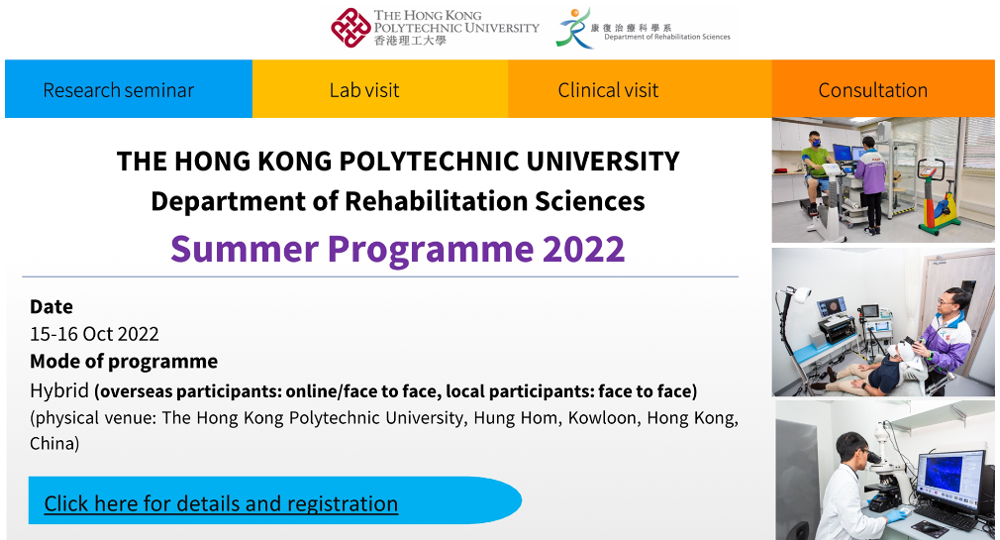 主辦單位

Department of Rehabilitation Sciences

地點

The Hong Kong Polytechnic University
備註
*You are recommended to fill in the registration form and submit it by the desktop browser.
摘要
THE HONG KONG POLYTECHNIC UNIVERSITY
Department of Rehabilitation Sciences
Summer

Programme

2022
The Department of Rehabilitation Sciences (RS), The Hong Kong Polytechnic University (PolyU) is the leading university in Hong Kong and the Chinese Mainland to provide tertiary education and accredited training for occupational therapists and physiotherapists. The Department is on par with the best of its kind in the world. Faculty members at Assistant Professor grade or above are 100% PhD qualified, with various types of expertise.
As an integral part of PolyU where innovation meets application, the Department of Rehabilitation Sciences has been a pioneer in the training of physical and occupational therapists and rehabilitation research for 40 years. The Department's mission is to cultivate the integration of the East and the West in rehabilitation sciences central to Physiotherapy and Occupational Therapy, as well as to nurture future leaders in the field. With highly experienced experts from international backgrounds, this scheme further facilitates internationalization by inviting students from discipline of occupational therapy, physical therapy, neuroscience and health science among the top-ranked universities around the world to join.
Objectives
With an aim to achieving "Opening Minds. Shaping the Future", the programme provides outstanding postgraduate and senior undergraduate students from leading universities around the world in disciplines related to occupational therapy and physiotherapy an opportunity to be exposed to cutting-edge rehabilitation research in the five areas of Complementary and Integrative Health in the East-West Context, Translational Neuroscience and Rehabilitation: Sensori-motor Systems, Translational Neuroscience and Rehabilitation: Cognitive-affective Systems, Musculoskeletal and Sport Rehabilitation and Healthy Ageing. Participants will be given information to pursue PhD studies at PolyU for application of The Hong Kong PhD Fellowship Scheme and other scholarship schemes.
Date

Mode of programme
Hybrid (overseas participants: online/face to face, local participants: face to face)
     (physical venue: The Hong Kong Polytechnic University, Hung Hom, Kowloon, Hong Kong, China)
Activities in the programme
Research seminar

Lab visit

Clinical visit
Financial support
The Summer Programme is free of charge.

The financial subsidy for students from within and outside the Pearl River Delta region of the Chinese mainland attending the Summer Programme physically (i.e. not virtually) will be HK$500 and HK$1,000 respectively. The reimbursement ceiling for students from Asia and other parts of the world attending the Summer Programme physically will be HK$2,000 and HK$5,000 respectively.

The reimbursement will be paid on an one-off, lump-sum and all-inclusive basis. All accommodation and transportation from the hometown of participants to Hong Kong would be arranged by the participants themselves.
Who may apply?
On-going students/fresh graduates of Bachelor/Master degree in Occupational Therapy/Physiotherapy or related disciplines.  Preference will be given to applicants with first class honors or a GPA 3.6 or above.
Applicant must be strongly motivated for research or an academic career, with excellent communication skills, leadership potential, and interest in Chinese culture and cultural exchange.  Preference will also be given to applicants who are planning to study PhD overseas.
Enquiry:
Please email to rs.crm@polyu.edu.hk for enquiry.
Application deadline
From now until further notice.