"A journey of a thousand miles begins with a single step" – PolyU DMgt graduate Kevin Chan shares his experiences about a bumpy road to success
Entrepreneurship is a bitter-sweet journey filled with challenges and opportunities. As there is no such thing as a "winning formula" in starting and running a business, one has to figure out his or her own pathway. Dr Kevin Chan Lai-sin, a graduate of PolyU's Doctor of Management Programme, encountered different trials throughout his career, but these challenges did not deter him in his pursuit of entrepreneurship. He is glad to share his experiences with the younger generation, hoping to inspire them to find their own road to success.
"I'm an entrepreneur and a life-long learner."
Kevin comes from a grassroots family. After completing his secondary school studies, he worked as a civil servant for some years and used his personal time to take part-time courses on design. Despite the stable income and the sense of security provided by his job, he decided to step out of his comfort zone to realise his dream of running his own business. "It was in the year 1993 when my business just started. I suffered a big loss in investment and had a debt problem." He had no choice but to take up multiple jobs, in order to get through the hard times.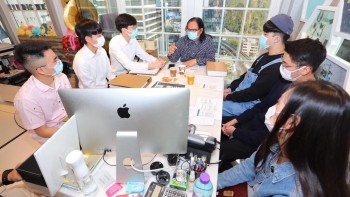 "I used to work in Tai Pai Dong (an open-air food stall) and a newspaper stand to earn myself some cash." To clear his debts as soon as possible, Kevin also tried his luck as a real estate agent, where he first learned about the business potential of the property sector. It was then that he decided to take a new direction in his career.
"The old saying 'A journey of a thousand miles begins with a single step' (千里之行,始於足下) always gives me the courage to carry on." Despite the hiccups along the way, Kevin founded his interior design company "Design Information Centre" more than twenty years ago. Throughout the years, he managed to grow his business to a much larger scale and has earned numerous recognitions from the industry. His company went public on the Hong Kong Stock Exchange in 2017 (SEHK 8455).
"I live every day as if it was my last."
While highly engaged in his career, he nonetheless did not stop his pursuit of learning. After attaining a Bachelor's degree and a Master's degree as a mature student, Kevin decided he should pursue a Doctoral degree at PolyU. "I try to live every day as if it was my last, pushing myself to make the best out of my time."
"Studying the Doctor of Management programme at PolyU was a rewarding experience for me. I enriched my knowledge of business management while also meeting classmates from Mainland China and Hong Kong. My classmates were full of vitality and creativity; they gave me a lot of new inspirations." Kevin also expressed his gratitude to Professor Edwin Cheng (Dean of Business School, Fung Yiu King - Wing Hang Bank Professor in Business Administration, and Chair Professor of Management) and Dr Petrus Choy (Professor of Practice - Shipping Finance) who guided him through the tough initial stage of the programme, leading him toward a fruitful learning journey.
"I want young students to understand the real business environment."
To Kevin, running a business is no easy task. On top of delivering high-quality and professional services to his customers, he believes that it is important to take good care of his employees to build a cohesive and happy team. To help young people understand what the "real business world" is like and to share with them his management philosophy, he is delighted to take part in the "CEO Shadowing Programme" organised by the Institute for Entrepreneurship and the Student Affairs Office of PolyU.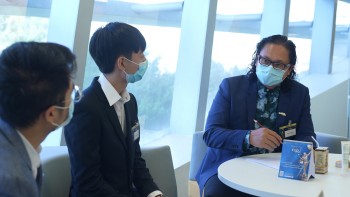 Comprising a meetup session and a one-day shadowing of a CEO, the Programme aims at providing an opportunity for PolyU students to learn about leadership skills and an entrepreneurial mindset from local CEOs, while the CEOs also gain some valuable understanding about the younger generation.
Kevin was impressed by the participating students in the Programme, in particular Lance Pua, a Filipino-Chinese student majoring in Civil Engineering. "He was a bit passive in the first meeting, so I initially had doubts about selecting him as my mentee. Once I got to know him more, I felt that he had a passionate heart and was eager to learn new things. I'm glad that he insisted to stay with me for the shadowing day," Kevin recalled.
Lance also felt grateful to have Kevin as his mentor. Alongside learning practical tips in running a business, he was inspired by Kevin's leadership style. "Kevin was like a father figure not only to us but to all employees. I feel that he is a humble and genuine person that really cares for those who work for him. I have gained a lot of inspiration from him, especially about the attributes of being a leader and the importance of nurturing a good team culture."