Maestro of Contemporary Lingnan Painting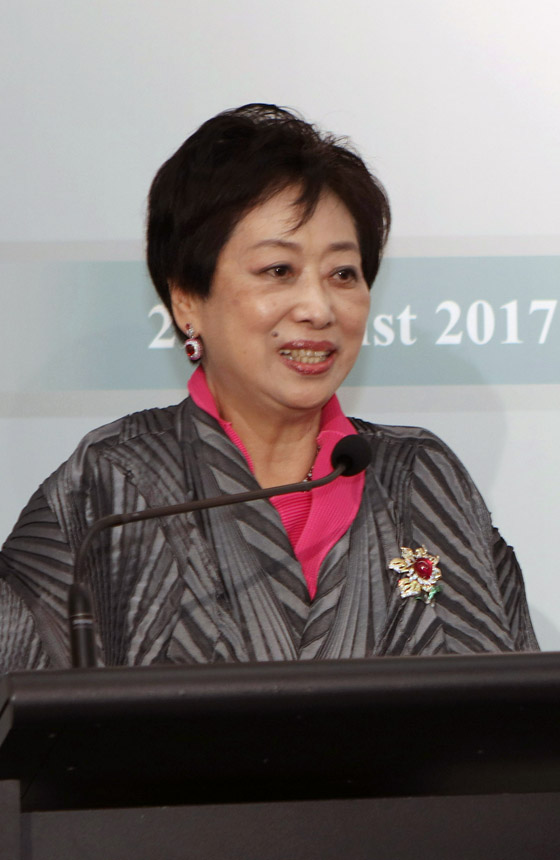 Ms Ng Yuet-lau
A fond student of the masters Chao Shao-an and Huang Chun-pi, Ng Yuet-lau belongs in the third generation of the Lingnan lineage and is a renowned Hong Kong painter. Ms Ng is a member of China Artists Association, the Chairman of Hong Kong Lingnan Art Association, the President of Ling Ngai Art Association, and the Vice Chairman of Lan Ting Club. She is currently a visiting professor of Xiamen University and Shaoguan University, an instructor of Lingnan painting at City University of Hong Kong and the Honorary Fellow of S.H. Ho College of The Chinese University of Hong Kong.
Ms Ng has held solo exhibitions at Tsinghua University, Peking University, China Central Academy of Fine Arts in Beijing, Gungdong Museum of Art, National Museum of Singapore, Singapore Art Museum, University College Dublin in Ireland, China Art Museum, Beijing Yen Huang Art Museum, University of Indianapolis in the US, Fudan University in Shanghai, Shenzhen Museum, National Dr Sun Yat-sen Memorial Hall and National Chiang Kai-shek Memorial Hall in Taiwan, Hong Kong Heritage Museum, The Chinese University of Hong Kong, The Hong Kong Polytechnic University, China Academy of Art in Hangzhou and Guan Shanyue Art Museum in Shenzhen, China. She has also given lectures in many universities.
In 2013, Ms Ng was awarded the Certificate of Recognition by Canadian Prime Minister, Stephen Harper and the Town of Richmond Hill, Toronto. She was listed in the "One Hundred Outstanding Chinese" and awarded the World's Outstanding Chinese in 2014. In addition, her artworks were selected for the 9th, 10th, 11th, and 12th National Fine Arts Exhibitions held in China, and are collected by numerous universities, museums, national leaders and private collectors such as the Great Hall of the People, Diaoyutai State Guesthouse, Jingxi Hotel, Peking University, Tsinghua University and China Academy of Art in Hangzhou.
Ms Ng's paintings stand out for their Chinese sensitivity reminiscent of Song and Yuan landscapes but at the same time informed by contemporary aesthetics in form, colour and metaphor. They resemble Western oil painting in mood but demonstrate virtuosity in traditional Chinese brush and ink. The unpainted patches transcend emptiness whereas the painted celebrate vibrancy. What is vividly captured is not only aspects of the outside world but also those of the painter's inner world. The palette may be Western but the manipulation of ink is definitely Chinese. Confined by neither time nor space, her works come straight from the heart and are expressions of both intellect and emotions. Sometimes refined, delicate or meticulous, and other times majestic, robust or unrestrained, her art is an eclectic mix of masterly merits across time and space, and has provided the speciously booming Chinese painting scene with a much needed booster. With her fascinating landscapes opening up new horizons, Ms Ng will surely become a model for many to follow in the world of Chinese painting.