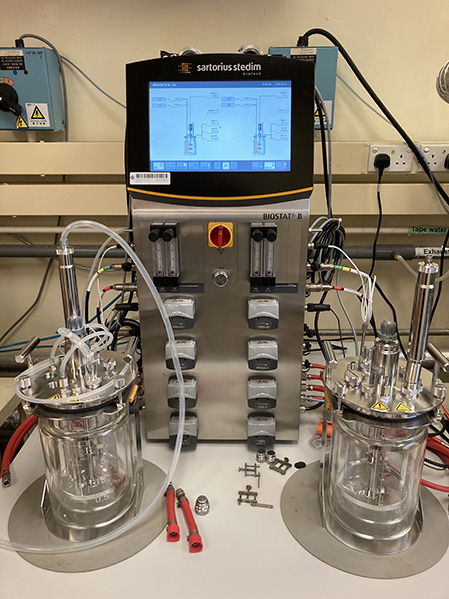 Description
The BIOSTAT B is a benchtop fermenter/bioreactor designed for various biotechnological and biopharmaceutical applications. The main configuration of the system is developed for microorganisms cultivation such as bacteria, yeast and fungi, plus animal, plant and insect cell culture. The system can control two 2 L vessels independently, with the CONTROLLER module for the measurement and control capabilities of temperature, stirrer speed, pH and dissolved oxygen. In addition, the flexible aeration strategies allow air, oxygen and nitrogen flow control, providing different aerobic and anaerobic processes.
Specifications:
Rotation speed: 20 - 2000 rpm
Base: Fixed 44 rpm
Anti-foam agent: Fixed 5 rpm
Substrate feed: 5 - 150 rpm
BioPAT Xgas off gas (O2 and CO2) sensor
BioPAT Fundalux Turbidity probe
1-channel absorption probe
2 x 2L double-walled glass UniVessel
Exhaust cooler
pH sensor
pO2 sensor
Foam sensor
Temperature sensor
Temperature control: 0 - 80 °C
APV1000 Laboratory Homogenizer
An APV1000 homogenizer is also available for sample preparation.
Specifications
Capacity: 22 l/h
Minimum test sample: 150 ml
Maximum operating pressure: 1000 bar
Hourly rate
Internal users: $7
Collaborators: $14
External users: $35