Artist-in-Residence Programme: Casting
All Programmes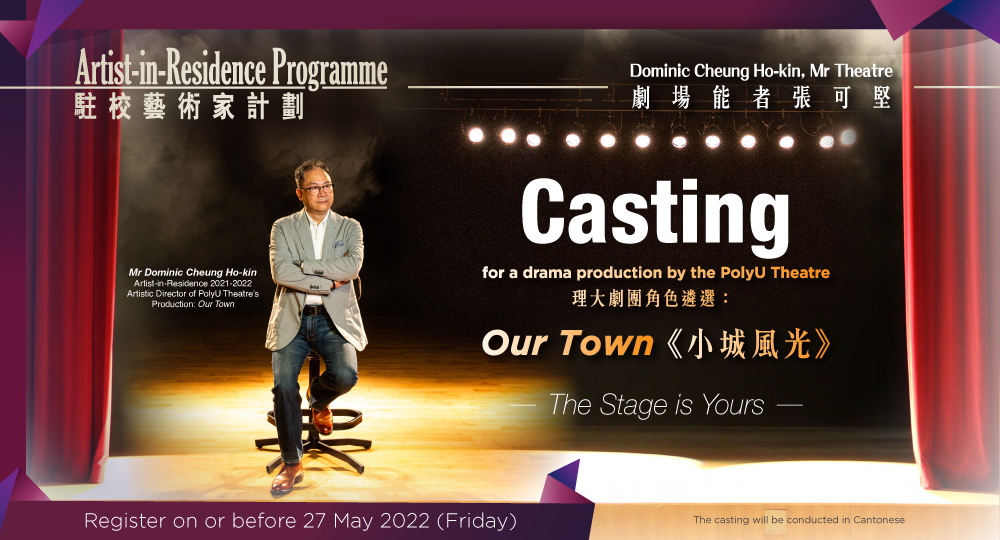 Organiser

Culture Promotion Committee

Venue

Chiang Cheng Studio Theatre, PolyU
Summary
We are looking for bright and promising actors and actresses for some casts in the coming PolyU Theatre's Production: Our Town 《小城風光》. Seize the chance to be guided by Dominic Cheung Ho-kin, Artist-in-Residence Programme 2021/22.
Our Town, the winner of Pulitzer Prize for Drama in 1938, was written by the American playwright Thornton Wilder. It leads audience to reflect life, family, living, and more through the story of two families Webber and Gibbs in an American town. 
Application is open to PolyU students, staff and alumni. The casting will be conducted in Cantonese. 
Register on or before 1 June 2022 (Wednesday): https://polyu.hk/JCAue .