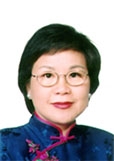 2010 University Fellow
Ms Katherine Hung Siu Lin
Ms Katherine Hung received her education from the Hong Kong Technical College, a predecessor of PolyU. She joined Cheung Kong (Holdings) Limited in 1972 and has been deeply involved in the development of the company. Witnessing its growth into a world-renowned enterprise, she has herself also become a distinguished leader in the real estate industry.
Ms Hung worked her way up to senior management level by dint of her unswerving efforts and dedication to her work. In 2000, however, she chose to step down from her high-paid frontline job and began her second career – contributing to the community her experience, wisdom and personal network. Over the years, she has dedicated herself to the voluntary service of different organizations and has undertaken various public duties. With a commitment to nurturing the next generation, she has participated in the management of primary and secondary schools, career training schools, community college and tertiary institutions. She is currently a Council Member of the Leadership Training Institute of Scout Association of Hong Kong, an Advisor to the Continuing Education Department of Hong Kong Young Women's Christian Association, a Court Member of The Hong Kong University of Science and Technology and a Court Member of PolyU. She has been serving as a Steering Committee Member of PolyU's Institute for Enterprise since 2000. Through her connections with a variety of organizations, she has helped make available many development opportunities for Hong Kong youngsters, launched social services and fostered many research collaborations.
Ms Hung is currently Director of the Li Ka Shing Foundation Limited, and has been appointed by the Hong Kong Special Administrative Region Government as a member of the Estate Agents Authority, Executive Board Member of the Hong Kong Housing Society and Secretary of Scout Association of Hong Kong. She is also Tianjin Committee Member of the Chinese People's Political Consultative Conference. All these demanding roles rightly reflect Ms Hung's contributions and commitment to the development of Hong Kong and the Chinese mainland.
Chairman Yang, University Council Members, President Tong and Honoured Guests,
I would like to extend my sincere gratitude to PolyU for conferring this University Fellowship upon me. This honour represents not only a recognition by PolyU of my contributions, but also an affirmation of the important decisions I made in my life. It will also serve as an important motivator as I move forward.
During my early years, I worked to a very tight schedule, expending much effort in the quest for knowledge and achievement. When I was able to afford myself a more stable life, I chose to put aside fame, wealth and power for my second career. Since then, I have been actively engaging in various sectors, meeting people from all walks of life and understanding their operations and needs. I share with others my experience from a commercial perspective and offer suggestions. Through these engagements, I truly recognize and strongly believe that Life is a process of learning, exploration, appreciation and sharing. We get inspiration from our pursuits; we motivate others with our experience; and it is vital to have our knowledge and wisdom well integrated and passed on through generations.
Higher education in Hong Kong is faced with challenges on various fronts. As an application-oriented institution, PolyU has made outstanding achievements both in nurturing talents and in fostering the application of our research output. I am really proud of our accomplishments. While my past efforts and experiences have made me what I am today, this Fellowship will certainly enhance my self-confidence. I will surely have clearer goals and continue to devote myself to the development of the University, and to the cultivation and transfer of knowledge in the years to come. Thank you.