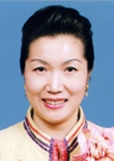 2010 University Fellow
Ms Fiona Cheung Sum Yu
MH
Ms Fiona Cheung was born in Nanjing and moved to Hong Kong with her parents in 1980. She is currently Chairman of Forest Zone Limited, a company with businesses ranging from real estate investment, stock trading, trading to entertainment production.
Firmly believing in giving back to society, Ms Cheung has been actively engaged in community service and philanthropic activities. She was previously on the Po Leung Kuk Board of Directors from 2001 to 2003, and Chairperson of the 27th Term Board of Directors of Yan Oi Tong. She is now a member of the Standing Committee of the Chinese People's Political Consultative Conference in Nanjing, Council of Hong Kong Repertory Theatre, the Joint Selection Committee of Po Leung Kuk, as well as Founding Chairman of the Tuen Mun Fire Safety Ambassador Honorary Presidents Association and Honorary Dean of the Confucian Academy. Ms Cheung also serves on the Board of Directors of a number of primary and secondary schools, and kindergartens.
Although based in Hong Kong, the well-being of her home town Nanjing is always dear to her heart. She makes generous donations towards the building of primary schools in Nanjing, contributing significantly to the education of the next generation. To further promote exchange and to foster collaboration between Nanjing and Hong Kong, she founded the Nanjing (H.K.) Association in 2005 and has been serving as its Chairman since then.
In her capacity as the Vice Chairman of PolyU's Student Competitiveness Development Committee, Ms Cheung is keen to help students broaden their horizons and sharpen their competitive edge. Despite her busy schedule, she still spares time to interact with our students and enlighten them with her experience. For her significant contributions to the community, she was awarded the Medal of Honour by the Government of the Hong Kong Special Administrative Region in 2007.
Chairman Yang, University Council Members, President Tong and Honoured Guests,
I am deeply grateful to The Hong Kong Polytechnic University for conferring this prestigious Fellowship upon me today.
Life is full of possibilities. By a strange quirk of fate, I have been connected with PolyU since 2004. That year, a dear friend and mentor of mine Dr Woo Wai-man introduced me to Mr Benedict Lee, former Senior Development Manager of PolyU's Alumni Affairs and Development Office, who invited me to join the Editorial Board of Ming Tao as the Chairman. The publication of Ming Tao, a Chinese publication featuring the success stories of 50 prominent figures in society, is a fundraising initiative of the University. I was later invited to join PolyU's Student Competitiveness Development Committee where I have been given the opportunity to share my personal experience with PolyU students and to participate in various exchange activities in the Chinese mainland. In addition, I was involved in a number of PolyU fundraising activities.
The past six years with PolyU have been truly rewarding and I have the feeling that I have been studying at this University. I put my heart into various projects and have benefitted greatly. I would like to take this opportunity to thank the President, Vice Presidents and the PolyU members for providing me with these opportunities, and my friends and family for their support. I hope I can contribute to the further development of this University, and I sincerely wish PolyU greater success in the years ahead, thereby strengthening its position as a world-class university.
Thank you.