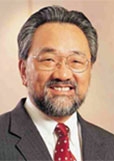 2010 University Fellow
Mr Victor Cha Mou Zing
Mr Victor Cha, currently Deputy Chairman and Managing Director of HKR International Limited, is a highly successful entrepreneur. Upon graduation from the University of Wisconsin with a Bachelor of Science Degree in Economics and from Stanford University Graduate School of Business with a Master's Degree in Business Administration, Mr Cha returned to Hong Kong and joined the family business. Adhering to his late father's ideals and believing that integrity builds trust and goodwill in all business relationships, Mr Cha, together with his elder brother, has steered the Group to grow tremendously over the past years.
With his extensive knowledge and rich experience in industry and business, Mr Cha has also taken up other responsibilities. He is an independent non-executive director of SOHO China Limited and an alternate independent non-executive director of New World Development Company Limited. He has also assumed many public roles, including those of Member of the Chinese People's Political Consultative Committee of Zhejiang Province and Executive Committee Member of the Hong Kong Arts Festival.
Mr Cha has staunchly supported the development of PolyU by serving on its Council from April 2003 to March 2010. During this period, the University has benefitted greatly from his sound advice and wise counsel through his participation in various committees, including the Audit Committee, Executive Committee, and Senior Executives Evaluation and Compensation Committee.
Mr Cha has a strong passion for performing arts and enjoys photography in his leisure time.
Chairman Yang, University Council Members, President Tong and Honoured Guests,
It is indeed a great honour to receive this University Fellowship from The Hong Kong Polytechnic University today.
Education is crucial for a society's sustainable development. It is through education that we can nurture talents to rise to the challenges of the fast-changing world. Yet education is more than knowledge and skill acquisition. We need to provide an all-round education which can inspire our young people to develop a wider range of skills, competencies and personal qualities as well as to think globally and creatively. This is what we expect to see with the implementation of the new 3-3-4 academic structure.
When meeting young people, I always tell them learning is a process for them to explore and develop their areas of interest. When learners can concentrate on developing an area of interest, they find learning challenging, and I know for certain that then success will surely follow.
Over the past seven years, I have been given the opportunity to serve as a Council Member of PolyU where I have been able to play a part in the advancement of the University and local higher education. During this period, I have witnessed the substantial progress PolyU has made and I am truly proud of its accomplishments in nurturing professional talents and in promoting application-oriented research. I have every confidence that, with their visionary leadership and strong commitment to education, Professor Tong and his management team will take PolyU to its next level of excellence, thereby contributing to the betterment of Hong Kong, our mother country and the world as a whole.
Thank you.