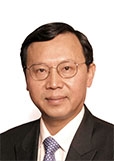 2012 University Fellow
Mr Kong Qingping
Mr Kong Qingping is the Chairman of China Overseas Land and Investment Limited, Chairman and Non-Executive Director of China State Construction International Holdings Limited, and Vice President of China State Construction Engineering Corporation Limited. He has more than 30 years' experience in the management of corporate affairs, construction projects and property development.
Mr Kong holds a bachelor's degree in Engineering from Harbin University of Civil Engineering and Architecture and an Executive Master of Business Administration degree from Harbin Institute of Technology. He joined China State Construction Engineering Corporation in 1982 and was seconded to Hong Kong in 1987. In 1997, he became the Executive Director and General Manager of China Overseas (Hong Kong) Limited, then a subsidiary of China Overseas Holdings Limited. In his subsequent senior positions, he improved the company's corporate governance, and played a leading role in enhancing risk management and external relations.
Mr Kong has made significant contributions in the field of construction engineering and real estate development. He has been engaged in a number of large-scale construction projects, including the terminal at the Hong Kong International Airport, the passenger terminal at the Guangzhou Baiyun International Airport, and the Hong Kong Disneyland. All of them were the largest and the most difficult projects of similar nature in China during the same period. Mr Kong has also actively participated in ecological and energy conservation research. He has successfully developed many luxury properties in various cities in China including Beijing, Shanghai, Guangzhou, Shenzhen, Chengdu, Nanjing, Hong Kong and Macau. This has not only increased the brand value of the company but also earned him the "Director of the Year Award — Executive Director of Listed Companies" presented by The Hong Kong Institute of Directors in 2006. In recognition of his efforts in promoting the development of the industry and technological advancement, Mr Kong has won two National Science and Technology Progress Awards in addition to various provincial science and technology awards.
The higher education sector has also benefited from this outstanding business leader. Mr Kong is Visiting Professor at Harbin Institute of Technology and Adjunct Professor to PolyU's Department of Building and Real Estate. He has been invited to share his experience in a PolyU public lecture entitled "Real Estate Market in China, Present and Future."
Mr Kong is a Fellow of The Chartered Institute of Building (UK), Director of China Civil Engineering Society, and Vice Chairman of The Hong Kong Chinese Enterprises Association. In 2008, he was appointed as a National Committee Member of the Chinese People's Political Consultative Conference and a Standing Committee Member of Chongqing Committee of Chinese Political Consultative Conference.
Chairman Yang, University Council Members, President Tong and Honoured Guests,
The Hong Kong Polytechnic University has, over the years, nurtured talents and professionals for society, many of whom have become movers and shakers in their industries and professions. Today, it is indeed a great honour for me to receive this University Fellowship from PolyU.
Hong Kong is my second home. It has been 26 years since I left the Chinese mainland to work and settle in Hong Kong. I spent the best years of my life in China Overseas Land and Investment Limited (COLI), playing a part in almost 1,000 local construction projects. These are scattered all over Hong Kong, and many of them have grown to become part of our lives and culture. Over the years, while COLI has established itself as a construction conglomerate, I have also witnessed the growth of Hong Kong's economy and its interaction with the Chinese mainland. It means a lot to me to be able to have such life experience. I have also developed a strong affection for this city.
There is a saying in the Confucian classic, the Book of Rites, "Great learning teaches the display of illustrious virtue, the renewal of the people, and repose in the highest good." As manifested in its motto, "To learn and to apply, for the benefit of mankind," PolyU shares the same vision in education. The University has a long-established vision and tradition, and prides itself as a provider of all-round education, placing emphasis on nurturing students' professional and practical knowledge. I strongly agree with the University's vision in education, and hope that with the joint efforts of PolyU and the University Fellows, we can contribute our experience to the further enhancement of its education.
Finally, I would like to extend my heartfelt gratitude to members of COLI and my family for their support over the past decades, and I would like to share this honour with all of you here today. Thank you.