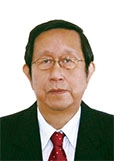 2012 University Fellow
Prof Norman W.M. Ko
Professor Norman W.M. Ko, a world renowned sculptor, is an expert in fluid dynamics and acoustics and a pioneer in the control of noise pollution in Hong Kong. Graduating with a bachelor's degree in Mechanical Engineering from the University of Hong Kong (HKU) in 1963, Professor Ko obtained his Doctor of Philosophy from the University of Southampton, England, in 1969. He was awarded a Doctor of Science degree from HKU and the University of Southampton in 1995 and 2004 respectively. Professor Ko was a chair professor in the Department of Mechanical Engineering at HKU until his retirement in 2000, and has published extensively internationally with more than 240 research papers. He is now Emeritus Professor at HKU and an honorary professor in the Department of Mechanical Engineering.
Over the years, Professor Ko has been active in his field. He has served as a member of the Editorial Advisory Board of the International Journal of Experimental Heat Transfer, Thermodynamics, and Fluid Mechanics, and as chairman and member of several international conference committees. He is a fellow of various professional bodies including the Hong Kong Institution of Engineers, Hong Kong Institute of Acoustics, and the Institution of Mechanical Engineers and Institute of Acoustics in the United Kingdom. He is also an Honorary Fellow of HKU and the Open University of Hong Kong.
Widely recognized as an artist, Professor Ko has multiple talents in sculpting, painting and photography. He began creating sculptures in 1979 and has since received numerous awards for his creative works both locally and overseas. He is also a well-known underwater photographer.
PolyU is fortunate to be home to some of Professor Ko's art pieces. In 2011, Professor Ko donated the sculpture "Soaring" for permanent display on PolyU campus and donated a set of five special sculptures titled "Vision" in 2012 as a gift for PolyU's 75th Anniversary. Professor Ko has also been supporting the University's endeavours in promoting arts and culture. He staged his first-ever one-man, outdoor sculpture exhibition in Hong Kong as the grand finale of the PolyU Arts Festival in 2009, and served as Artist-in-Residence at PolyU in 2012.
Chairman Yang, University Council Members, President Tong and Honoured Guests,
When I was in the scientific arena, nearly everyone I knew pointed out to me that I had no "brain." Years later, after I ventured into arts, someone pointed out to me that I had two "brains." These comments did, and still do, puzzle me.
Even with the award of this Fellowship, I am sure I could never solve such a profound no "brain," two "brains" riddle.
As I have only one "brain," very naturally, I can only set myself a very simple vision in life. Merely, to try to do what I want to do. However, I am aroused, time and time again, such simple a vision is extremely difficult to achieve!
I would like to thank The Hong Kong Polytechnic University for awarding me this University Fellowship. It is an honour that I do not deserve. Without the encouragement and help from all my friends, I could never do what I want to do. This award should really be awarded to them.
Thank you.