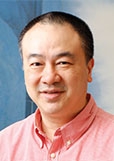 2012 University Fellow
Mr Clifton Ko Chi Sum
MH
Renowned film director, producer and screenwriter Mr Clifton Ko is the Chief Executive Officer and Producer of Spring-Time Stage Productions. To date, he has taken part in the production of 85 films in the capacity of screenwriter, curator and producer and has directed 38 films, many of which have become household names. These films include: Happy Ghost; Chicken and Duck Talk; It's a Mad, Mad, Mad World; All's Well, Ends Well; I Have a Date with Spring; and The Mad Phoenix. While Chicken and Duck Talk was selected as one of the Hong Kong Film Awards Best 10 Chinese Motion Pictures in 1988, All's Well, Ends Well, grossing almost HK$49 million on its release in 1992, broke the Hong Kong box-office records and became the highest-grossing film ever made at that time. The latter also won him the "Top Ten Highest Grossing Films Award" (「最高累積票房十大電影」獎) in the Hong Kong Highest Grossing Films 1985 - 2005 Award Presentation Ceremony (全港最高票房電影頒獎禮1985 - 2005). In 1997, he won the 34th Golden Horse Award for Best Film Editing for The Mad Phoenix.
Mr Ko has made significant contributions to the development of the local theatre scene. He has spearheaded over 60 theatre productions that have exceeded 1,000 performances in Hong Kong and abroad, including I Have a Date with Spring, A Sentimental Journey, Jubilee and Shooting Star. Spring-Time Stage Productions was the first art group to stage theatre productions at the PolyU Jockey Club Auditorium and has since then entered into various collaborations with PolyU. The University has partnered with Spring-Time Stage Productions and Chung Ying Theatre Company in presenting a series of musicals including The Sound of Music and Old Master Q. Mr Ko is also often invited as guest speaker at PolyU student talks.
Mr Ko has spared no efforts in his services to the community, and has raised funds through his theatre productions for organizations such as Po Leung Kuk, Tung Wah Group of Hospitals, Polar Museum Foundation and Suicide Prevention Services. He has also devoted much time to serving on various committees. He is Honorary Permanent President of the Hong Kong Screenwriters' Guild and Member of the HKSAR Immigration Department Quality Migrant Admission Scheme Advisory Committee.
In recognition of his outstanding contributions to the development of arts and culture, Mr Ko was conferred an Honorary Professorship by Hebei University School of Arts in 2005 and a Medal of Honour by the HKSAR Government in 2006. In 2009, Mr Ko has also won the Hong Kong Arts Development Awards 2008 – Gold Award for Art Promotion (Individual) and the Hong Kong Federation of Drama Societies' 18th Hong Kong Drama Awards – Award for Outstanding Art Administration (25th Anniversary Award).
Chairman Yang, University Council Members, President Tong and Honoured Guests,
First of all, let me express my heartfelt thanks to The Hong Kong Polytechnic University for conferring upon me this University Fellowship. I am most delighted and honoured.
I grew up in a public housing estate. Without high academic qualifications, I started working immediately upon graduation from secondary school. When I was 17 years old, I joined a television broadcasting company and started my working life as a scriptwriter. I have now spent 36 years working full-time in the entertainment industry, taking part in film and theatre productions, during which I have experienced several changes in social values in Hong Kong. During my childhood and teenager years in the 60s and 70s, Hong Kong was a society that counted on dedication and hard work. Struggle for the future was the core value in those days. In the 80s, when I moved from the television industry to the film industry, it was an age where creativity was valued. As long as you were smart, and your work showcased new content and new style, you would receive commendation and encouragement - even from competitors in the same business. In the 90s, Hong Kong became a materialistic society and all were involved in speculation. It was an age where we just talked about "numbers," with little or no attention to creativity and hard work. Many people valued "numbers" and used "numbers" to measure everything. In the millennium age, in the face of revolutionary changes, people of different social classes, including me, have to face a new environment and new challenges. Is it possible today to hold the same values as in the past? I am afraid not.
In today's society, many people tend to exhibit strong negative emotions and to overemphasize their own personal interests. This being so, I have told myself that, from now on, I have to bring positive energy to society through my works in various arenas, whether it be theatre, television or film productions. In this regard, I would like once again to thank PolyU for awarding me this University Fellowship. This has not only enhanced my confidence and motivation, but also boosted my positive energy. Together with my team at work, I will make every effort to bring positive energy to our society through our works. I also hope that everyone in society might, likewise, try to spread positive energy to every sector of our society.
Finally, I would like to thank my family and team for their support over the years. I would like to share this honour with them today.
Thank you.