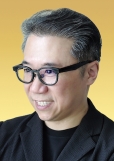 2018 University Fellow
Mr Eric C. Yim
JP
Mr Eric C. Yim is the Founder of POSH Office Systems (HK) Limited, a Cambridge-trained architect and bespoke furniture designer. Bearing testament to his business acumen, Mr Yim rapidly built his business from a locally-based SME into a globally recognised brand in the office furniture sector. A home-grown industrialist, scholar and major contributor to the art and design industry in Hong Kong, he is internationally recognised and revered in his field.
In addition to championing the way forward for POSH Office Systems, Mr Yim serves a multitude of public roles – dedicated to further developing the industrial and design sectors across Hong Kong. This strategic industry input includes Mr Yim serving as Chairman of Hong Kong Design Centre, Chairman of Design Council of Hong Kong, Chairman of Hong Kong Export Credit Insurance Corporation and Deputy Chairman of Federation of Hong Kong Industries. He was also Chairman of the Hong Kong Furniture and Decoration Trade Association for six years. In recognition of these selfless endeavours across multiple business sectors, Mr Yim was appointed as a Justice of the Peace in 2015.
In the education sector, Mr Yim is not only a Court Member at The Hong Kong Polytechnic University (PolyU) and Honorary Life President of the PolyU Foundation but also the Chairman of School-Industry Advisory Committee on Design. Additionally, Mr Yim is Deputy Chairman of the Vocational Training Council and an advisor to the Hong Kong Design Institute. Mr Yim generously established the "Eric C. Yim Endowed Professorship in Inclusive Design" at the School of Design at PolyU in 2013 to foster excellence in creativity, design and innovation among youth in Hong Kong.
In 2012, Mr Yim founded the Ming Foundation with the objectives of advancing design education and research, and supporting multiple initiatives to further enhance society. His efforts in nurturing future talent have been invaluable in creating a sustainable talent pipeline and helping upskill the Hong Kong design community.
For his dedication and contribution in his discipline, Mr Yim has earned a string of accolades. He was awarded Young Industrialist of Hong Kong in 2005 and Leader of Excellence in 2006. He was also honoured with the Asia Pacific Outstanding Entrepreneur Award, Asia Pacific Culture and Creative Industries Award, and City Contribution Award of the Shenzhen-Hong Kong Lifestyle Awards in recent years.
Chairman Chan, University Council Members, President Tong and Honoured Guests,
I am deeply honoured to be standing before you today to receive the University Fellowship from The Hong Kong Polytechnic University (PolyU). This award is particularly special for me because of the extremely close ties I have with PolyU and the PolyU community.
I would like to thank the Orator for sharing some of my personal and professional history, as well as the work I have accomplished in my various roles at PolyU. I am sure no one will deny the importance of education and how absolutely vital it is to invest in the future talent of Hong Kong.
In this modern age characterised by the use of new technologies and digitalisation, creative design when coupled with innovation can help embrace change and capture new opportunities. And I am delighted to see PolyU is placing a lot of emphasis on this crucial field of study.
So what is design? Many people may see design as mere beautification of a product or an environment. But in reality, design can enhance almost every aspect of our lives. Take POSH as an example, we do not just merely make office furniture, rather we help to create a comfortable and conducive environment for people to enjoy work and also enhance their efficiency. Creative design can provide solutions to many problems, making life better and happier. So it is my mission to promote local design and innovation. Through this process, we also develop and grow our society.
Design is very interesting as it requires both creativity and logical thinking. However, to truly benefit people and society, great design also requires cross-discipline knowledge. The School of Design at PolyU has built up a strong international standing and has been home to many famous designers. I hope the school will continue to excel by nurturing bright young designers who are not only resourceful and creative but also have the passion for making the world a better place.
In his book, businessman Bruce Nordstrom remarked, "Leave it better than you found it." That's our mission, not only for Hong Kong but also for the planet. Whether you are creating a global brand, or learning the basics of where good design meets business and transformation, we should all aim to improve on our own experiences. Let us all work towards that. Thank you.