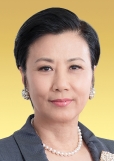 2018 University Fellow
Dr Elizabeth Wang Ming-chun
SBS
Dr Elizabeth Wang Ming-chun, affectionately known to us as "Liza Jie", is one of the most popular and famous performing artists of our time. She has proven herself to be multi-talented with her remarkable performances as an actress, singer, dancer and programme host. Her pivotal contributions towards the revival of Cantonese opera in recent years and her commitment to serve in public duties have earned much admiration and respect across the board.
Having dedicated her career to performing arts for more than half a century, Dr Wang has continued to impress audiences with many iconic roles played in TV dramas. Many of her songs such as Love and Passion have also become timeless classics, enchanting the Chinese-speaking community around the world. On top of her artistic career, Dr Wang has always been mindful of promoting the interests of the entertainment industry. This is evident today in her work as the Vice President of the Association for Betterment of Hong Kong's Entertainment Industry in Mainland China Limited.
In 1983, Dr Wang embarked on her career in Cantonese opera. She turned out to be a shining star on stage with her spectacular performance. In 1992, she became the first woman ever to be elected the Chairman of Chinese Artists Association of Hong Kong. She was later re-elected and remains at the helm today. During her tenure, she has helped to completely raise the benchmark for Cantonese opera and developed the Association into the highly professional organisation it is today. She has been widely acclaimed for her tremendous efforts in the promotion and continuation of Cantonese opera heritage. Some of her noteworthy accomplishments include successfully retaining Sunbeam as a venue for performance amid many difficulties. She has been instrumental in the establishment of the new Xiqu Centre in the West Kowloon Cultural District. She has also initiated many new training opportunities to nurture young talent for the industry and has succeeded in revitalising the historical Yau Ma Tei Theatre into a training base.
Dr Wang's drive and diligence have gained for her numerous recognition, including the prestigious Silver Bauhinia Star in 2004 by the HKSAR Government. Dedicated to the welfare of the motherland, she served as Hong Kong/Macau Delegate of the National People's Congress and Member of the National Committee of the Chinese People's Political Consultative Conference.
Chairman Chan, University Council Members, President Tong and Honoured Guests,
I am honoured to be standing before you today to be conferred the University Fellowship by The Hong Kong Polytechnic University (PolyU).
Thanks to the Orator for the introduction, it took me back through my journey of personal growth and career development. Looking back, I feel extremely blessed and grateful to have been given so many opportunities for personal development over the years. Such experiences have enriched my life, making it as colourful and beautiful as a rainbow.
I am also greatly encouraged by the recognition of my work from the Government, academic circles and various social organisations. My heartfelt thanks to PolyU for conferring on me this University Fellowship, this is not only an honour but also a tremendous motivator for me.
I have always upheld the belief of "Taking from society and giving back to society" through my participation in all kinds of community work. Today, I am honoured to become a member of this large family. From now on, I wish to bring more cultural and arts programmes to the students of PolyU by leveraging on my experience and network in this field. I hope this will enable students to have a better understanding of the quintessence of Chinese arts and culture while acquiring professional knowledge and learning experiences at university. The "whole person education approach" adopted by PolyU will eventually inspire students to become young talents with holistic knowledge, wisdom and social responsibility. Armed with this, they can then give back to their country and to society as a whole with the aim of building a better future.
PolyU has always adhered to their motto, "To learn and to apply, for the benefit of mankind". The University has nurtured so many elites working in different sectors over the past decades. "To learn and to apply" means to learn every truth and use the knowledge learned to accomplish every task. "For the benefit of mankind" means to learn and to serve.
I am eager to work closely with PolyU and together we can continue to carry forward this spirit. I will share my knowledge and experience in arts with PolyU, and give back to society, so that even more people in Hong Kong can learn, enjoy and be immersed in Chinese culture and arts. Thank you very much.