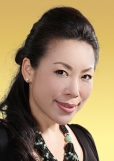 2018 University Fellow
Dr Lunlun Zou
Dr Lunlun Zou is a Guzheng virtuoso, renowned for her distinctive, free-spirited and cheerful style. In addition to her spectacular performances, which touch the hearts of audiences worldwide for her dazzling technique and charisma, Dr Zou's professional and creative abilities within music composition, teaching and the promotion of Chinese music have set her apart as an outstanding performer in her field.
A distinguished artist, Dr Zou has been performing from a very young age and has won numerous awards in Chinese traditional music competitions. She has performed at the most respected concert halls and opera houses around the world. She regularly tours through major cities in China, New Zealand, Australia and the United States, and records for radio and television. While living in Australia, Dr Zou established a Chinese music band called the "Three Girls' Band", which has since been performing throughout Australia and Hong Kong focusing on Chinese classical as well as contemporary compositions. Dr Zou has performed tirelessly for a range of audiences, not only including dignitaries and heads of states internationally, but also the less fortunate in many benefit concerts.
Despite her fame and success on the world stage, Dr Zou has dedicated her time and expertise to education in Hong Kong as well as globally. Her primary teaching specialities have included Chinese culture, music and arts. Dr Zou has held lectures and academic exchanges in these fields at The Chinese University of Hong Kong, the Canadian International School of Hong Kong, the Hong Kong Victoria Shanghai Academy and the Kiangsu-Chekiang College. Furthermore, Dr Zou regularly lectures at the Cultural Exchange Conference of the Confucius Institute. Her aim is not only to pass on her rich heritage of guzheng art, but also to promote Chinese and Asian culture.
Dr Zou has a close affiliation with The Hong Kong Polytechnic University and has been an active fundraiser. In addition to her support for students, she has so generously volunteered to perform on many occasions and has offered her help in programme arrangements and rehearsals. For her selfless services and exceptional talent, Dr Zou became the first instrumentalist to receive the World Outstanding Chinese Artist Award in 2015. Building on this success in 2016, Dr Zou has since been appointed as the Executive Chairperson of the World Outstanding Chinese Youth Association.
Chairman Chan, University Council Members, President Tong and Honoured Guests,
I am deeply honoured to receive the honorary title of University Fellowship from The Hong Kong Polytechnic University (PolyU).
In the world of art, music must surely be the most profound medium to express human emotions. In the prelude of Twelfth Night, Shakespeare wrote, "If music be the food of love, play on." From this I take that music lives within our hearts, and as such it is an integral part of our lives. We can exist without needing books to read. But when we hear a beautiful melody, the charm is as irresistible as it is essential. Music has the power to encourage and embolden people, to make people feel hopeful in difficult times and to drive the human race forward.
As a fourth generation professional musician, I believe my mission is to inherit, promote, innovate and develop traditional Chinese music. I have taught overseas as well as held concerts and lectures all around the world. During these assignments, I have experienced just how oriental music can truly reflect the profoundness of Chinese culture, so full of wisdom, philosophical thinking, elegant etiquette and positive values. I endeavour to inspire all young people to improve oneself and cultivate artistic passion through the learning of music. I believe this gives them a better understanding of China's ancient and on-going culture as well as its influence on the civilised world.
In this regard, I am delighted to see PolyU not only has a symphony orchestra, but also a Chinese orchestra. These are just a few of the things that demonstrate PolyU's commitment to cultivating students' interest and creativity in the arts. Music provides students with an opportunity to realise their potential, it can also enhance their concentration and ignite their enthusiasm. Working with PolyU, I look forward to helping students develop creativity and reaching their full potential. Music can produce positive energy and enrich our lives and I hope more young people can benefit from music as an art form.
To conclude, I would like to share a poem by Li Bai, which I hope will encourage you to achieve your goals, whether musical or otherwise. "One day, I will ride the wind, break the waves. Hoisting my sail to touch the clouds, I will cross the deep blue sea." Thank you.