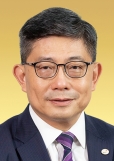 2018 University Fellow
Mr Richard Sun Po-yuen
JP
Mr Richard Sun Po-yuen is a Hong Kong Certified Public Accountant and a veteran and distinguished capital market professional. He is an enthusiastic participant in public service and also an outstanding alumnus of The Hong Kong Polytechnic University (PolyU). Mr Sun has received numerous honours for his dedicated contributions to his profession, education and charity.
Mr Sun became a Partner of PricewaterhouseCoopers (PwC) in 1996 and is currently their Institutional Group Leader of the Assurance Division in Hong Kong and Macau. He also serves as Lead Director of both the Greater China (CaTSH) Board of Partners and PwC Asia-Pacific Governance Board as well as Member of the PwC Global Board. Previously the firm's spokesperson on Hong Kong and global capital markets and with ongoing active participation in capital market activities in Hong Kong and the mainland, Mr Sun has long been recognised as a leader in capital markets for his shrewd insights and individual viewpoints on listing trends and policies, which are highly regarded by market participants in Hong Kong.
Despite his demanding work, Mr Sun continues to leverage his extensive knowledge and experience in his field to serve the public. He was a Member of the Listing Committee of the Hong Kong Exchanges and Clearing Limited for five years and was previously elected Chairman of The Association of Chartered Certified Accountants, Hong Kong Branch. He was also formerly the Director of the Hong Kong Applied Science and Technology Research Institute, the Hong Kong Science and Technology Parks Corporation as well as the Estate Agents Authority. Mr Sun was awarded Justice of the Peace in 2012 by the HKSAR Government in recognition of his active participation in volunteer works and significant contributions to the development of Hong Kong.
Having gained his Professional Diploma in Accountancy in 1984, Mr Sun is devoted to supporting the continuous development of his alma mater. In 2013, he was elected an Outstanding PolyU Alumnus by his alma mater. At present, he is an Honorary Life Member of the PolyU Foundation, Honorary Treasurer for the Outstanding PolyU Alumni Association and a key contributor to PolyU's fund-raising drives.
For all these momentous accomplishments and contributions to the University and to society, he is worthy of recognition and of being conferred the accolade of University Fellowship.
Chairman Chan, University Council Members, President Tong and Honoured Guests,
It is my great honour today to receive this University Fellowship from The Hong Kong Polytechnic University (PolyU). This award has a special meaning because of my strong ties with PolyU, which is my alma mater. I was an accounting student 37 years ago at the former Hong Kong Polytechnic.
I can still remember the old days at the Hong Kong Polytechnic which I treated as a second home. In addition to long hours of studying in the library, I often spent much time after classes taking part in activities organised by the Social Services Group. In my second year, I was awarded a scholarship to attend the Outward Bound Leadership training course. There, I learnt how to cope with challenges and build self-confidence. After graduation, I joined Price Waterhouse, one of the "Big Eight" accountancy firms at the time. I worked long hours to meet tight deadlines and worked hard at night to prepare for my professional accounting examinations. This journey was all about passion and commitment and contributed to who I am today.
Over the past several decades, I witnessed the tremendous growth of PolyU from a technical institution to a world-renowned university. Our PolyU motto, "To learn and to apply, for the benefit of mankind" speaks to a great ambition of connecting education with practical applications, and of making contributions and giving back to our society and internationally. Based on the "QS Top 50 under 50" university ranking survey, PolyU is ranked 7th in the world and 3rd in Hong Kong. It is the only university in Hong Kong that incorporates "Work-Integrated Education" and "Service-Learning" as mandatory components in the undergraduate curriculum. PolyU has also built a reputation for delivering high-impact research projects and launching successful student start-ups. Entrepreneurship is highly encouraged by PolyU, with various funding schemes in place to provide seed funding to budding entrepreneurs.
I am proud of what my alma mater has achieved and I am sure this success will continue. The honour I receive today will, no doubt, add impetus to my convictions and efforts to support my alma mater. I must also take this opportunity to thank my parents, my wife, my daughter and my son. Without their support and understanding, I would not be standing here today. Thank you.