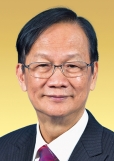 2018 University Fellow
Dr Ng Chi-ho
Dr Ng Chi-ho, Founder, Chairman and Managing Director of Suga International Holdings Limited, is a leading electronic engineer and astute businessman. Taking his organisation from initial concept to a listed company on the Main Board of the Stock Exchange of Hong Kong, Dr Ng has been instrumental in its success. His leadership and perseverance have enabled him to create an internationally respected brand encompassing a wide range of electronic products and solutions.
Dr Ng graduated with a Bachelor of Science from The Chinese University of Hong Kong and holds a Master of Philosophy in Electronic Engineering from The University of Hong Kong. He was later awarded an Honorary Doctorate of Engineering degree from Lincoln University in the US. Before establishing his own company, Dr Ng had been teaching electronic engineering at the Hong Kong Polytechnic for four years, nurturing talent who would become leaders in the industry.
Balancing his pioneering role in business, Dr Ng also contributes through active participation in public service. He is Chairman of Hong Kong Electronic Industries Association, Honorary Chairman of Hong Kong Electronics Industry Council and Vice Chairman of Dongguan Electronic Industries Association. In addition, he is an Advisor of the Technology Development Committee of Federation of Hong Kong Industries, a Member of the Electronics Expert Panel of Hong Kong Science and Technology Parks Corporation, and the Assessment Panel Member under the Enterprise Support Scheme of Innovation and Technology Bureau. Dr Ng is a keen supporter of The Hong Kong Polytechnic University (PolyU). He has served on the Advisory Committee of the Department of Electronic and Information Engineering. He also supports PolyU's research in sustainable urban green agriculture through generous donation.
Dr Ng is a strong advocate of entrepreneurship and innovation through his role as an angel investor for emerging businesses. He is the Founding Partner of Hong Kong Innovation Angel Funds and the Founding Partner of Hong Kong-Shenzhen United Investment Foundation. Dr Ng is a Chartered Engineer and a Fellow at the Institution of Engineering and Technology in the UK as well as the Hong Kong Institute of Directors. He received many prestigious awards such as the Outstanding Entrepreneurship Award from Enterprise Asia in 2013 and the Hong Kong Electronics Industry Outstanding Achievement Award from the Hong Kong Electronics Industry Council in 2018.
Chairman Chan, University Council Members, President Tong and Honoured Guests,
I am most delighted to receive this prestigious title of University Fellowship from The Hong Kong Polytechnic University (PolyU).
My association with PolyU was rooted a very long time ago when I first joined the Hong Kong Polytechnic as a lecturer for the Department of Electronic Engineering. For four years, I devoted my efforts nurturing young talent towards their goals in the electronic industry. Many of my students have remained in close contact and I relish seeing their progress – some have gone on to become leaders in their chosen fields, while others are now University Council Members. I take great pride in their remarkable achievements.
Later, I served as an advisor for the Department of Electronic and Information Engineering, where I provided industry advice. I have also given my support to university development through the PolyU Foundation. I consider it my great privilege to have such a deep and meaningful connection with this esteemed institution.
It has been over 20 years since I left the education field to establish Suga International, which specialises in research and development, manufacturing and sale of electronic products. For me, running a business is very similar to conducting research at university as one must keep up with changing times through lifelong learning. PolyU has long been an important partner of the industry and their research has always been in line with industry trends.
Over the last decade, I have served as Chairman of the Hong Kong Electronics Industry Council and the Hong Kong Electronic Industries Association. While dedicating to connecting industries and facilitating expansion into overseas markets, I have witnessed the rapid growth of Hong Kong's electronic industry. In 2017, electronic products accounted for two-thirds of Hong Kong's total export value, making it the biggest contributor to the Hong Kong economy in terms of exports.
Innovation and technology development is key to industry success. With the keen competition in the global market, we must strengthen our capabilities in this area to achieve sustainable growth. In view of this, I have actively invested in start-ups, hoping to support new talent. A pipeline of quality talent is essential to this innovation and technology development. I am confident that PolyU will continue to empower aspiring professionals with the insight and entrepreneurship to make great contributions to the technological innovations of our time. Thank you.