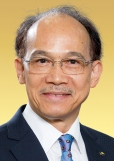 2018 University Fellow
Mr Jimmy Kwok Chun-wah
SBS, MH, JP
Mr Jimmy Kwok Chun-wah, Managing Director of Rambo Chemicals in Hong Kong, is an outstanding chemist and successful local industrialist who is determined to give back to society. Under his leadership as Chairman, the Federation of Hong Kong Industries has played an active role in enhancing the competitiveness of Hong Kong industry. With a rich knowledge of, and extensive connections in, the manufacturing sector in Hong Kong, Mr Kwok has been a vital bridge between public and private sectors, reflecting industry views to the Government as a business leader.
Mr Kwok has also offered valuable advice to the Government through his participation in various advisory and statutory bodies. In addition to the aforementioned, Mr Kwok is Chairman of the Advisory Committee of Recycling Fund and has been at the forefront of the establishment of a HK$1 billion recycling fund. Further, Mr Kwok is Chairman of the Energy Advisory Committee, Member of the Trade and Industry Advisory Board, Member of the Labour Advisory Board, and Council Member of the Hong Kong Trade Development Council.
Mr Kwok advocates for the innovation and adoption of new technologies as a key success factor in business. He is a living example who constantly strives for breakthroughs. For instance, he is an early adopter of nanotechnology for surface coating. He currently serves as a Member of the Committee on Innovation, Technology and Re-industrialisation, and he is the Honorary President of the Hong Kong Federation of Innovative Technologies and Manufacturing Industries. Leveraging on his professional expertise to serve the industry, he is an Advisor of the Hong Kong Metal Finishing Society and Technical Advisor to the Hong Kong Electro-Plating Merchants Association.
An esteemed member of The Hong Kong Polytechnic University (PolyU) community, Mr Kwok is a long-serving former Council Member and has been a Court Member of PolyU since April 2018. Bearing testament to his continued community and industry efforts, Mr Kwok was awarded the Silver Bauhinia Star by the HKSAR Government in 2018.
Chairman Chan, University Council Members, President Tong and Honoured Guests,
It is an honour to receive this University Fellowship from The Hong Kong Polytechnic University (PolyU) and I wish to begin my speech by thanking all those at PolyU for their continuous support and endless passion for mutual learning.
I obtained my first degree in Chemistry from a university in Taiwan. My PolyU journey started a few years later when I studied for a Diploma in Management Studies. Later during my work, I was in frequent contact with relevent departments for the use of research equipment. The close bond with my alma mater has continued to develop as I began to lead industrial initiatives and promote industry-academic collaborations in Hong Kong.
Over the past 20 years, I have been given the opportunity to learn while also serving society across many different positions. Alongside other dedicated social leaders and industry experts, I have tackled issues such as waste reduction, recycling, wages and welfare policies.
The key to continuous learning is to remember that it is not only a procedure but also an attitude. Procedure refers to a systematic course of actions. Contrarily, attitude refers to the belief that the pursuit of truth can bring positive changes to the world and eventually solve the problem.
As an industrialist, I have coached and mentored many young people in the hope of passing down my skills and experience. In this new economy, however, I found that technological advancement has transformed the way we work and live towards a more rapidly paced environment. Today we follow yesterday's method, but tomorrow some third-party software will take precedence. This happens every day in manufacturing and is an unstoppable trend. Learning, in fact, has been decentralized and we can now learn from anyone connected in our network.
PolyU is a network of knowledge and every one of us is a node of this massive network. We all have the responsibility to contribute, in some way, regardless of age and academic rank. Most importantly, we all need to recognise our mandate to seek truth in the pursuit of knowledge.
In the future, I wish to continue to foster this spirit of both teaching and learning from all members of the PolyU family. Once again, I thank the University, my family and friends for their heartfelt support of my work for PolyU and society. Thank you.