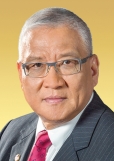 2018 University Fellow
Dr Edward Chan Kwok-man
Dr Edward Chan Kwok-man, Founder and Managing Director of German Pool (Hong Kong) Company Limited, is a highly successful homegrown industrialist. In the 1980s, Dr Chan harnessed the high potential and development opportunity of household appliances and established his own brand specialising in the water heater market. The brand's reputation has been built on high-quality products and services. German Pool was one of the first Hong Kong-invested enterprises to enter the mainland market, with business now extending across Southeast Asia, Europe and America.
Dr Chan's resounding successes as an entrepreneur and his contributions to Hong Kong industry have earned him a string of honours. In 2005, Dr Chan was awarded an Honorary Doctorate by Armstrong University in the US. In the same year, he received the World's Most Outstanding Chinese Award presented by the United World Chinese Association. Moreover, Dr Chan was awarded an Honorary Fellowship by the Professional Validation Council of Hong Kong Industries in 2006 and an Honorary Professorship by the Canadian Chartered Institute of Business Administration in 2007. In 2011, Dr Chan was awarded an Honorary Fellowship by Warwick University in the UK.
Dr Chan has spared no effort in serving the community and helping to promote local businesses through his involvement in various public roles. At present, he is President of Hong Kong Brands Protection Alliance, Vice President of the Chinese Manufacturers' Association of Hong Kong, Vice Chairman of Hong Kong Brand Development Council, Honorary President of Hong Kong Electrical Appliance Industries Association and Honorary President of Hong Kong Institute of Patent Attorneys, dedicated to facilitating exchange and building network across industry sectors. In 2011, Dr Chan co-established the Promoting Happiness Index Foundation with his friends in the industry. In his capacity as President, he proactively promotes the concept of happy workplace and healthy living. By organising meaningful activities, the Foundation helps people develop positive life values with the aim to enhance the happiness level of Hong Kong people.
Dr Chan is also a keen supporter of education. He has established many scholarships and offered internship opportunities for students. He is currently the President of CEO Club and an active member of the PolyU Foundation at The Hong Kong Polytechnic University.
Chairman Chan, University Council Members, President Tong and Honoured Guests,
I am grateful and humbled to receive the University Fellowship from The Hong Kong Polytechnic University (PolyU). It is an honour to have my contributions through charity work and my business philosophy of benefiting society formally recognised. Upon receiving this honour, I would like to express my gratitude to those who have given me support throughout the years, including my family, my partners, my friends in the industry, and of course my brothers and sisters in the CEO Club.
The original objective of running a business in household electronic appliances was to develop products that were affordable by the general public. Let's take the first flagship product of German Pool – the water heater – as an example. It was considered a luxurious good at the time, but my company was the first to make it well-known and affordable, enabling families to relish in the joy of a hot shower.
Later, I introduced various types of products in response to market demand while also considering the use of Earth's resources to create a better and sustainable environment for our next generation. I believe that environmental protection is very important and we must do as we promised. The design and production of my company have always been guided by the concept of eco-friendly and energy-saving principles, creating a breakthrough in the energy efficiency of new products in recent years.
Further, a great emphasis has been placed on the development of The Belt and Road Initiative as well as the Guangdong, Hong Kong and Macau Greater Bay Area. If Hong Kong can follow the policy of the central government, grasp development opportunities and enhance business quality, I believe we can make even better contributions to society and industry. As a product manufacturer, I cooperate with professionals in many different sectors to improve the uniqueness of the design and continue to explore the potential of the world market while maintaining an excellent reputation.
Once again, I would like to thank PolyU for conferring on me this University Fellowship, and I will continue to promote the transfer of knowledge and technology. Thank you very much.