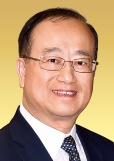 2018 University Fellow
Mr Chan Kam-lam
GBS, JP
Mr Chan Kam-lam, President of Kingrich Asia Holdings Limited and Kingrich Trading Limited, and Director of Shenyang Wuai World Enterprise Company Limited, has built up highly successful businesses in Hong Kong while serving the local community in a multitude of public service roles. From his early political endeavours through to his membership of the Legislative Council of Hong Kong for over 20 years, Mr Chan's dedication to the business community and public service has made him venerable among his Hong Kong peers.
Mr Chan has long been a leading figure of the Kwun Tong Residents Association. He began his career in politics when he was elected to the Kwun Tong District Board. After gaining increasing local influence and support, he together with Mr Jasper Tsang and Mr Tam Yiu-chung co-founded the Democratic Alliance for the Betterment and Progress of Hong Kong (DAB), a major political party in Hong Kong and became its core member. In 1995, Mr Chan was elected as Legislative Councillor. During his term, he witnessed the return of Hong Kong's sovereignty to its motherland. Later, he was consecutively re-elected as Legislative Council Member of Kowloon East serving the public interest.
A faithful public servant to the wider Hong Kong community, Mr Chan has held numerous key positions, including his role as Member of the National Committee of the Chinese People's Political Consultative Conference. Additionally, Mr Chan has served as a Member of the Hong Kong Independent Commission Against Corruption and a Member of the Hong Kong Housing Authority. He has also served as a Non-executive Director of Securities and Futures Commission, Hong Kong International Airport and the Urban Renewal Authority. Mr Chan currently serves as a Non-executive Director of the Mandatory Provident Fund Schemes Authority.
Mr Chan has been enthusiastic about advancing quality education in Hong Kong, as demonstrated by his roles as Member of the Council of both The Hong Kong Polytechnic University (PolyU) and The Chinese University of Hong Kong. Currently a Member of the PolyU Court, Mr Chan's ongoing commitment to education initiatives within Hong Kong is well recognised. Mr Chan was awarded the Silver Bauhinia Star in 2005 and the Gold Bauhinia Star in 2016 by the HKSAR Government for his leading roles in public affairs and voluntary work.
Chairman Chan, University Council Members, President Tong and Honoured Guests,
It is with sincere appreciation to The Hong Kong Polytechnic University (PolyU) that I accept the University Fellowship. Receiving this honorary title from my alma mater is especially meaningful. This is not just a matter of recognition but also a source of considerable encouragement that drives me to fulfil my responsibilities to PolyU and to society as a whole.
I studied at the Hong Kong Technical College, the predecessor of PolyU, where I acquired professional knowledge. Even in those early days, I aspired to serve the community. Driven by a sense of social responsibility, I went out resolutely into the community to serve people and embarked on the road to politics.
Throughout my 21-year Legislative Council career, I have had a strong affinity and patriotism for Hong Kong and our nation, which has underpinned my services for the general public. I have been lucky enough to witness the implementation of "One Country, Two Systems". The various challenges I have encountered during my political journey have helped mould my character to fight for righteousness and to dare to act. It has been an enriching experience.
I am grateful to the HKSAR Government for my appointment as a Member of the PolyU Council, so I can remain proactive after retirement. Moreover, this has provided me with the opportunity to continue to give back to my alma mater and make further contributions to society. During my six years as a University Council Member, I have participated in numerous university activities and helped steer key strategic decisions. I am fortunate to be able to work with the other Council Members, professors and faculty members in serving the University. This work also enormously benefits me on a personal level. I am extremely proud to see PolyU graduates involved in various industries, and inspired to see their strengths develop as they achieve excellence.
I would like to take this opportunity to sincerely thank my family, who has always given me great support, as well as my friends for attending today's ceremony and for sharing this honour with me. Adhering to their motto of, "To learn and to apply, for the benefit of mankind", I am adamant PolyU will continue to nurture talents with the highest standards of professional knowledge and social responsibility. In turn, they will go on to contribute to Hong Kong and our country. Thank you.