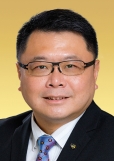 2018 University Fellow
Dr Sunny Chai
BBS
Dr Sunny Chai, Group Managing Director of Fook Tin Group Holdings Limited, is a global scale manufacturer and highly successful businessman. Since taking over the family business, he boldly shifted focus from the production of lamps, toys and household items and ramped it up to encompass professional scales for medical, industrial, automotive and home use. In recent years, he has been dedicated to research and development, particularly in the field of information technology, and has worked tirelessly to adopt new technologies to maximise and sustain business growth. His entrepreneurial attitude and work ethic have transformed the Group and grown its reputation internationally.
A distinguished scholar, Dr Chai graduated with a Bachelor of Science from Rochester Institute of Technology in the US and earned a Doctorate of Engineering in Project Management from the City University of Hong Kong. He also completed an Executive MBA programme at The Chinese University of Hong Kong.
In addition to his own academic and business successes, Dr Chai is dedicated to investing his time and expertise for the benefit of the entire Hong Kong community. Among his numerous public roles, he is the Chairman of the Hong Kong Science and Technology Parks Corporation and Deputy Chairman of Federation of Hong Kong Industries. Further, he is Board Chairman of Logistics and Supply Chain MultiTech R&D Centre Limited and Chairman of HKTDC Electronics/Electrical Appliances Industries Advisory Committee. In recognition of his outstanding achievements, Dr Chai was awarded the Hong Kong Young Industrialist Award in 2004.
Dr Chai is an ardent supporter of public affairs and a Committee Member of the Chongqing Chinese Political Consultative Conference. Dr Chai has a close affinity with The Hong Kong Polytechnic University (PolyU) and noteworthy has been the amazing work he has done as Chairman of the Departmental Advisory Committee of Industrial and Systems Engineering Department at PolyU. In 2018, Dr Chai was awarded the Bronze Bauhinia Star by the HKSAR Government for his outstanding contributions in promoting innovation and technology development in Hong Kong.
Chairman Chan, University Council Members, President Tong and Honoured Guests,
I am humbled and deeply honoured to be standing among the giants of our community today, and joining the ranks of the University Fellows of The Hong Kong Polytechnic University (PolyU). It is another exciting opportunity to contribute to society.
Today I serve on a range of boards and committees, including the chairmanship of a committee advising the Industrial and Systems Engineering Department here at PolyU. I am especially happy to support the university's mission of nurturing students and serving the community because it is something that I hold close to my heart.
As Chairman of Hong Kong Science and Technology Parks Corporation, I found that one of the most rewarding parts of this role is to help nurture young entrepreneurs and start-ups developing innovative new technologies which can help businesses run better and improve people's lives. I feel proud to see that some of these passionate entrepreneurs have successfully transformed their dreams into reality, and even received global recognition.
Right now, the innovation and technology (I&T) sector is gaining unprecedented public and private support because of its ability to transform many aspects of our lives and its potential to become a major economic driver for Hong Kong. I strongly believe that the key to I&T success is collaboration – between government, industry, academia and research institutions, including leading tertiary institutions such as PolyU.
The University Fellowship gives me the opportunity to contribute to these cross-discipline collaborations and the nurturing of younger generations, which will ultimately lead to the successful development of Hong Kong into an international I&T hub. Thank you.