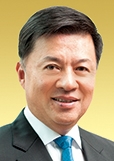 2017 University Fellow
Dr Henry Tan
BBS, JP, LHD
Dr Henry Tan is the Chief Executive Officer of Luen Thai International Group and he helped found and grow Luen Thai Holdings Limited into a renowned garment manufacturing and supply chain leader. Having steered the growth of his family business for many years, he enjoys longstanding ties with the apparel and textile industry and is devoted to nurturing fresh talents and leaders.
Dr Tan graduated from the University of Guam with a Bachelor's degree in Business Administration in 1975, and obtained a Master's degree in Business Administration from the same university in 1980. His success in running the business founded by his father made him a sought-after business leader and advisor especially in the apparel and textile sector in which he holds a string of important positions. These include Honorary Permanent Chairman of the Hong Kong General Chamber of Textiles and Vice-chairman of the Textile Council of Hong Kong. He is also a former Board Member of the Hong Kong Research Institute of Textiles and Apparel.
His ties with The Hong Kong Polytechnic University (PolyU) cover areas beyond the textile business. Besides being a Court Member of the University, he is Chairman of the Advisory Committee of PolyU College of Professional and Continuing Education and a former Advisory Committee Member of the University's Institute of Textiles and Clothing. He is an Honorary Member of the Court of the Hong Kong Baptist University.
In 2013, he was conferred an Honorary Doctoral degree by the University of Guam. Locally, he was awarded a Bronze Bauhinia Star in recognition of his social contributions, including support for charities and youth education. He is Vice-chairman of Tan Siu Lin Foundation and a former Po Leung Kuk Chairman. A HKSAR Election Committee Member, he also assumes a number of other appointments on the Chinese Mainland, including Honorary Trustee for Peking University. Dr Tan has recently been elected as a Hong Kong Deputy to the 13th National People's Congress.
Chairman Chan, University Council Members, President Tong and Honoured Guests,
I am most delighted to be conferred the honorary title of University Fellowship by The Hong Kong Polytechnic University (PolyU), an esteemed institution I feel immensely proud of and have associations with for many years. It especially gives me great pleasure to collaborate with the Institute of Textiles and Clothing, one of the best in Hong Kong in fostering talents and accomplishing research breakthroughs for the industry.
The global economic landscape is undergoing profound changes brought on by the emergence of new technologies, especially e-commerce. These technological advancements are reshaping people's lifestyle and creating new, wonderful opportunities. At the same time, they are disruptive for business, even industries and Hong Kong's economy. PolyU plays a most critical role at this moment in time. Your research breakthroughs are the platform for businesses and Hong Kong to rise above the challenges in the current technology-driven and intensely competitive environment. You are also equipping our young people with the right skills and knowledge to thrive in this new world.
I am hence very honoured to have engaged with PolyU over the years and played a small part in nurturing aspiring youngsters. There is nothing dearer to my heart to see young people reach their potential for their own and society's benefit. I am also excited by the prospect of closer co-operation amongst the "Government, industry, academia and research sectors", that would facilitate transfer of research breakthroughs to business, and help drive Hong Kong and its industries forward, not the least textile and clothing industry.
My years in the business have taught me an important life lesson: opportunity always knocks when there is change, and success goes to the best prepared. Change is here. Let us work hard and let us work together to make our dream take flight. Thank you.