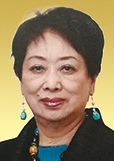 2017 University Fellow
Ms Ng Yuet-lau
A favourite student of art masters Professor Chao Shaoang and Professor Huang Junbi, Ms Ng Yuet-lau, a renowned painter, belongs in the third generation of the Lingnan lineage. She is a member of the China Artists Association, President of the Hong Kong Lingnan Art Association, President of the Ling Ngai Art Association, Committee Member of the Xiang Gang Mei Xie and Vice-chairman of the Lan Ting Club.
Ms Ng is totally committed to promoting Lingnan art education. She is currently a visiting professor of Xiamen University, a tenured professor of Shaoguan University and an instructor of Lingnan painting at the City University of Hong Kong. She was the Artist-in-Residence at The Hong Kong Polytechnic University (PolyU) and her works were displayed on campus at various occasions. Apart from lecturing, Ms Ng is an advisor of the Asia Research Programme of the University of Indianapolis in the US and of the Calligraphy and Painting Association of Fudan University in Shanghai.
Ms Ng has held solo exhibitions at prestigious venues including Tsinghua University, Peking University, China Central Academy of Fine Arts in Beijing, Shanghai Art Museum, China Academy of Art, Guangdong Museum of Art, University College Dublin in Ireland and The Chinese University of Hong Kong. Her artworks are widely collected by museums, art galleries and individual collectors.
Her art achievements and contributions have gained for her worldwide acclaim. In 2013, she was awarded the Certificate of Recognition by the then Canadian Prime Minister Stephen Harper and the Town of Richmond Hill, Toronto. She was listed among the One Hundred Outstanding Chinese and was named the World's Outstanding Chinese. She is also an honorary citizen of Shaoguan City.
Ms Ng's paintings stand out with Chinese sensitivity reminiscent of Song and Yuan landscapes, yet informed by contemporary aesthetics in form, colour and metaphor. They resemble Western oil painting in mood but demonstrate virtuosity in traditional Chinese brush-and-ink. Her art is a mix of masterly excellences that cross the boundaries of time and space, invigorating the Chinese painting scene and opening up new horizons. She is set to be a model for art aspirants in days to come.
Chairman Chan, University Council Members, President Tong and Honoured Guests,
It is really my great privilege to be given the University Fellowship honour. I am incredibly grateful to The Hong Kong Polytechnic University (PolyU) for its recognition of my artistic endeavours.
I developed a great passion for Chinese painting when I was young. I was most fortunate to have followed two Lingnan masters Professor Chao Shaoang and Professor Huang Junbi. Under their tutelage, I have not only mastered the skills of painting but also learned from them the spirit of creativity and great life philosophies.
Out of a deep respect for my teachers and of my devotion to Chinese paintings, I consider it my mission to pass on this traditional genre. Everyone can learn how to draw regardless of age. The key is not to strive for perfect skills but to cultivate an interest, especially among young children in the art. Attempts to promote the unique Lingnan style of painting have been both a fulfilling and challenging journey to me.
My personal efforts alone can hardly raise substantially public awareness of the art form. The support of influential institutions such as PolyU certainly conveys a strong message to the community about the value of preserving that particular element of our heritage. It was my great honour to be PolyU's Artist-in-Residence in 2016. It was a precious opportunity for me to introduce the contemporary Lingnan style of painting and show its beauty to the new generation.
Having served in a string of arts bodies, I am delighted to see the growing attention paid to Chinese paintings in both Hong Kong and abroad. I enjoy creating the artistic pieces as much as seeing exhibitions held in different parts of the world. It is my hope that more educational institutions can join in promoting arts, both Chinese and Western, for the benefits of students' whole person development.
I am sure people who are appreciative of arts will draw from them tremendous inspirations and sources of creativity much valued in today's world. Thank you.