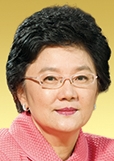 2017 University Fellow
Mrs Stella Lau Kun Lai-kuen
SBS, JP
Mrs Stella Lau Kun Lai-kuen is widely known and well respected as a veteran educator. She is also a fervent supporter of community service, an inspiring figure to students with her commitment to a wide range of public duties, and contributions to society beyond education.
Mrs Lau is a graduate of Diocesan Girls' School (DGS) and has been the Headmistress of her alma mater for nearly two decades. After finishing her study in sociology at University of Waterloo in Canada, she spent the early years of her career working for the Independent Commission Against Corruption (ICAC) and the Ministry of Defense (UK) Chinese Language School.
In 1990, she rejoined DGS as a psychology teacher. She became the Counselling Mistress in 1993, Deputy Headmistress in 1994 and has been the Headmistress since 1999. Under her leadership, the school continues to enjoy stellar reputation as a place for grooming outstanding women not just excelling academically but also with multiple talents.
Apart from upholding the fine tradition of the school, she strives to provide an all-round education in a conducive environment, with a view to enabling students to enjoy a richness of life and fulfill their aspirations.
Despite the demanding role as a Headmistress, Mrs Lau devotes her time and talents to serving the community. She has just completed her tenure as the Chairperson of the Women's Commission of the HKSAR Government. She is currently the Board Chairman of the Hong Kong Schools Sports Federation and is member of various organisations including the Sports Commission, the Kai Tak Multi-purpose Sports Complex Task Force, the Research Ethics Committee (Kowloon Central/Kowloon East) of the Hospital Authority, the Scholarship Committee of the Jardine Foundation, the Careers Advisory Board (The University of Hong Kong) and others.
Previously, she also rendered her service to other organisations, among which the Broadcasting Authority, the ICAC Complaints Committee, the Council for Sustainable Development, the Sir Jack Cater Scholarship Fund Selection Committee and the Family Council.
She was appointed the Justice of the Peace in 2006 and made Honorary Fellow of the City University of Hong Kong in 2010. In 2017, she was awarded the Silver Bauhinia Star by the HKSAR Government.
Chairman Chan, University Council Members, President Tong and Honoured Guests,
It is my great honour to receive the award of University Fellowship from The Hong Kong Polytechnic University (PolyU). I would like to express my gratitude to PolyU for its recognition of my commitment to public service over the years.
It is a blessing to be able to serve other people. I enjoy and cherish every opportunity to offer my support for meaningful causes whether they are for my school or the public, though I must admit that constraints abound in anyone's endeavour to serve the society. There are always challenges, old and new. In my case, juggling motherhood and running a school, alongside public duties, has forced me to exercise strict discipline, make sacrifices at times in trying to meet competing demands.
Still, I hardly harbour any regrets about my involvements over the years. As stated in the motto of Diocesan Girls' School (DGS) - Daily Giving Service – a life of service is what gives people a sense of meaning and purpose. There is no higher vocation than trying to make a difference in others' lives or the society as a whole.
DGS' ethos and philosophy of education aim at helping each individual tap her potentials to the utmost. We emphasise multi-faceted pursuits, covering music, sports, community services and spiritual nurturing, besides academic knowledge. I am pleased to find that our approach is shared by PolyU, with its emphasis on whole-person education and Service-Learning. Educational institutions worldwide would agree that learning should never just take place within the confines of classrooms.
It fills me with joy to see youngsters making new discoveries, enjoying their learning life and growing into mature individuals, both academically and personally.
I once read an article by Alison Gopnik, Professor of Psychology at the University of California. I found resonance with much of what she said about being a gardener in parenting for our children. We should give adolescents the leeway to grow up and to nurture their interest to learn and discover in their own way. Let us all be wise gardeners for our young generation. Thank you.