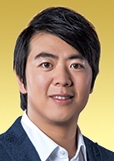 2017 University Fellow
Mr Lang Lang
Mr Lang Lang is an internationally renowned pianist, educator and philanthropist. He is also an influential ambassador who is leading the way in bringing classical music into the 21st century. Mr Lang has performed in numerous sold-out concerts and international events around the world. Among his audience are US presidents and heads of states. Owing to the profound impact he has on the musical world, he is widely recognised as "The first International Megastar Pianist" and "The leading person of the new generation in the classical music world".
Mr Lang's distinguished services and contributions in pushing the frontier of classical music has won for him numerous awards and accolades. He was presented with the 2010 Crystal Award in Davos and was named one of the "Young Global Leaders" by the World Economic Forum. In 2011, he was honoured with the highest prize awarded by the Ministry of Culture of the People's Republic of China, and in 2012 the highest German civilian honour, the Cross of the Order of Merit of the Federal Republic of Germany. In 2013, he received the Medal of the Order of Arts and Letters by the French Minister of Culture. In 2014, he received the Ondas Award in Spain and Bambi Award in Germany. More recently, Mr Lang received the Global Citizen Awards by the Atlantic Council in recognition of his astounding artistic career and his philanthropic work to build bridges between eastern and western cultures.
Mr Lang has received numerous recognitions from the top universities in the world, including the Honorary Fellowship of Peter's College at Oxford University, and the Honorary Doctorate from Royal Academy of Music, Manhattan School of Music, Conservatoire of Birmingham City University, New York University and Central Conservatory of Music.
Apart from his personal triumph, Mr Lang is also devoted to music education and nurturing young talents. He founded the Lang Lang International Music Foundation in New York in 2008 and Lang Lang Music World in Shenzhen in 2012. Mr Lang supports charity and gives back to society wherever he can. In 2013, he was designated by the Secretary General of the United Nations as a Messenger of Peace focusing on global education.
Chairman Chan, University Council Members, President Tong and Honoured Guests,
I feel deeply honoured and grateful to The Hong Kong Polytechnic University (PolyU) for bestowing on me the prestigious title of University Fellowship. I am greatly encouraged at the same time to see my efforts and devotion in promoting music being recognised by a renowned institution like PolyU.
Good music is timeless and it can cross boundaries of age, culture, time and space. Just like Chopin or Mozart or any of the greatest musical geniuses ever lived, their great works pass on from generation to generation. There are very few things in life that can reach that deep into the human soul like classical music. I have discovered my passion for music at a very young age. The joy that music can give is in itself a great driving force for me to strive forward.
As a musician, I consider I have the responsibility of bringing classical music into the 21st century. I hope to inspire people, especially young children to connect with this great art. Not everyone needs to become a professional artist but at least one can enjoy a personal encounter of music from within. This is also one of my objectives of setting up the Lang Lang International Music Foundation and the Lang Lang Music World.
I am delighted to see that PolyU shares my vision and passion for art education. The Artist-in-Residence programme is a good way to broaden students' exposure and cultivate their interests in art. PolyU's School of Design is famous for grooming professional art talents. I believe art education can enrich our life experience, inspire imagination, and train our discipline and concentration. I hope more students can benefit from these meaningful art programmes.
It was my honour to give performance at the PolyU 80th Anniversary Celebration Dinner and to meet with members of the University's Orchestra in December 2017. I certainly hope that there will be more opportunities for exchange with art and music lovers at PolyU in the future. Thank you.