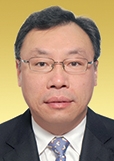 2017 University Fellow
Mr Yau Kwok-fai
Mr Yau Kwok-fai, an alumnus of The Hong Kong Polytechnic University (PolyU), is a distinguished engineer who has contributed greatly to the Hong Kong community, especially in his field of construction engineering.
After six years of study of civil engineering at the then Hong Kong Polytechnic, Mr Yau was awarded a Higher Diploma and a Bachelor's degree with first-class honours. He pursued further education at Imperial College, University of London, and obtained a Master of Science degree with distinction in 1991.
He is currently the Executive Director of Able Engineering Holdings Limited.
Mr Yau is concerned with honouring his alma mater. In 2015, he helped in the establishment of the Endowed Professorship in Sustainable Structures and Materials. The Professorship is named after Ir Professor Ko Jan-ming, former Vice President and Chair Professor of Structural Engineering of PolyU. In 2017, Mr Yau set up another Endowed Professorship in support of PolyU's research in smart structures and named it after his four secondary school teachers. With the setting up of these Endowed Professorships, Mr Yau wishes to pay tribute and express gratitude to his former teachers' selfless dedication to their students and their great contributions to society.
Mr Yau has garnered coveted awards in his years at Hong Kong Polytechnic, including the Li Po Chun Charitable Trust Fund Scholarships (1985/86) and the Hong Kong Polytechnic Directors' Award (1989/90) for his outstanding academic achievements and leadership qualities. He successively gained membership of the Institution of Civil Engineers and the Institution of Structural Engineers in UK and that of the Hong Kong Institution of Engineers.
Mr Yau has extensive experience in the planning, design and supervision of civil engineering works in both public sector and private residential developments. Since 1997, he has been responsible for managing the operation of construction projects and has been working in property development, real estate investment and project management in Hong Kong.
Chairman Chan, University Council Members, President Tong and Honoured Guests,
As an alumnus of The Hong Kong Polytechnic University (PolyU), I am greatly honoured to be bestowed the honorary University Fellowship. I would like to take this opportunity to express my gratitude to my alma mater and former teachers for their guidance.
I started studying civil engineering at the then Hong Kong Polytechnic after finishing Form Five. The six years of tertiary education there taught me the importance of knowledge; it was also such an enriching experience that my bonding with the institution grew deep as time went. The red-brick buildings characterising the institution were appealing. I particularly liked the only road on campus, the Yuk Choi Road because of the far-reaching meaning embedded in its name, symbolising the teaching staff's admirable dedication to guiding and nurturing future talents at the institution.
The old saying "A teacher is like a father in one's life" affirms the Chinese virtue of showing deference to teachers. In my case, the saying has an even deeper layer of meaning. In my years of personal growth and career development upon graduation, I continued to benefit from teachers' support and encouragement. Their care and concern for me was like what parents have for their children. Their great spirit of selfless contributions and support for students has inspired me to treat others in the same way.
From their examples, I have learned of "giving". They devoted their whole lives to teaching for the purpose of nurturing the future pillars of our society and creating a better world. Enlightened by them, I have always adhered to the principle of "Giving back to the alma mater, extolling teachers, supporting teaching and research, leading by example." I am really privileged to be able to serve my alma mater at different stages of my life.
Finally, I would like to thank my family, teachers and friends for their care and support throughout the years. Thank you.