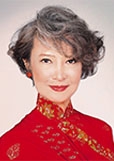 2014 University Fellow
Ms Josephine Siao Fong Fong
MBE
Renowned actress Ms Josephine Siao has an extraordinary film career spanning more than fifty years. She has starred in more than three hundred films and won twelve "Best Actress Awards," most notably the Silver Bear Award at the Berlin International Film Festival for Summer Snow (1995).
Determined to go to university, Ms Siao left the film industry at the height of her career in 1968 and obtained a Bachelor's degree in Mass Communications and Asian Studies at the Seton Hall University in the United States in 1973. In 1998, she received a Master's degree in Child Psychology at Regis University, Denver. She was a counselor and psychologist at Queen Mary Hospital from 1998 to 2002.
Ms Siao founded the End Child Sexual Abuse Foundation in 1998, with the mission to protect children under 18 from child sexual abuse and to raise public awareness of this grave social problem in Hong Kong. Serving as the President and former Chairperson of the Foundation, she has been actively involved in fundraising, as well as writing and producing a series of five education programmes for local primary and secondary schools, teaching students how to protect themselves and providing information to the general public on the importance of child protection against sexual abuse. Ms Siao was also former Chairperson of the Advisory Council of Hong Kong Association of the Deaf Centre and Advisory Council Member of the Center for Child Development of the Hong Kong Baptist University.
She is the author of several popular books on English learning, including Easy English Easy Job (1994), which was co-written with Mr William Smyly. A new edition of Yang Xiang (洋相), her top-selling book on Western etiquette, was released in 2012.
In 1997, Ms Siao was honoured "Member of the Most Excellent Order of the British Empire" by the British government in recognition of her contribution to the community and the film industry. She became an Honorary Fellow of the Hong Kong Academy for Performing Arts in 2000, and received an Honorary Doctorate from the Open University of Hong Kong in 2002. In 2009, at the 28th Hong Kong Film Awards, Ms Siao received a Lifetime Achievement Award.
Chairman Yang, University Council Members, President Tong, and Honoured Guests,
Last year I heard a story. In the 19th Century, Japan was in turmoil. Ronin (disreputable samurai without a master or home) infested the land. They roamed freely, and killed people as they pleased. Kura, a renowned tea master, was in fear of his life, so he strapped on a sword and dressed up as a samurai to follow his master on a business trip.
One day Kura was strolling alone. A Ronin challenged him to draw his sword and fight. "I am no samurai." Kura answered. "The more reason for you to die under my sword." The Ronin answered.
"Allow me first to take care of my business," Kura said, "And I will meet you here this afternoon." "Make sure you come back!" said the Ronin.
So Kura hurried to the most esteemed martial arts school in town and entreated the Grandmaster to teach him how to die "a dignified Samurai death." The Grandmaster was perplexed, "Those who come to me want to learn how to stay alive. You want to learn how to die. Why?" Kura told him what had happened. The Grandmaster said, "Make me a cup of tea, then I will teach you." So Kura began the familiar ceremony to brew the last cup of tea in his life.
The Grandmaster observed as Kura heated the kettle. He saw how he cleansed the utensils; strained the tea. He saw how he went on with a hint of a smile, his manner composed, and at last how he served the cup. The Grandmaster said, "You will not die. All you need to do is to face the Ronin with the heart and soul with which you make tea."
Kura hurried to the meeting place where the Ronin was waiting. "Duel starts now!" The Ronin roared. Thinking of what the Grandmaster had said, Kura gazed at the Ronin with a smile and gently put down his straw hat; took off his coat and folded it up neatly; tied up his sleeves and trousers with strings. He was totally at ease throughout the process as is the way of the Tea Ceremony with Zen meditation. Unnerved by Kura's gaze and smile, the Ronin grew more and more apprehensive. He did not dare attack him with his sword for he could not fathom his opponent's martial arts.
Eventually Kura swung his sword in the air and froze, for he knew not what to do next. At this moment, the Ronin fell on his knees and cried out, "Spare my life. Spare my life. You are the greatest Samurai I have ever met."
I would like to thank The Hong Kong Polytechnic University for conferring upon me this honorary title which will encourage me, like this tea master, to do my humble best with the End Child Sexual Abuse Foundation, to "make a good cup of tea" here in Hong Kong. Thank you.