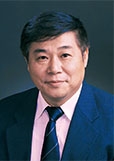 2014 University Fellow
Prof Wang Jianhua
Professor Wang Jianhua is an expert in electrical engineering, with research interests focusing on high voltage vacuum switchgear, intelligent device in power equipment, as well as computer-aided design and computer-aided manufacturing (CAD & CAM) technology in electrical apparatus. Graduating with a doctorate in Engineering from the Xi'an Jiaotong University (XJTU) in 1985, Professor Wang has taken up a teaching post at the university since then. He was Head of the Science and Technology Office and Deputy Dean of XJTU, and has served as Party Secretary of the university from 2003 to 2014. Professor Wang is now serving as Professor of Electrical Engineering at XJTU and has been Director of the State Key Laboratory of Electrical Insulation and Power Equipment since 2004.
A dedicated scholar, Professor Wang has been active in his specialized field. He has published over a hundred and thirty articles in international and Chinese academic journals. He has served as an Editorial Board Member of the journal Advanced Technology of Electrical Engineering and Energy and Honorary Editorial Board Member of the magazine High Voltage Apparatus. Apart from his valuable contributions to research, Professor Wang has actively participated in organizing key conferences in China and abroad, advancing the development and application of intelligent electrical devices. His significant contributions to his field of research have earned him sixteen patents and numerous accolades including a second-class award in Scientific and Technological Progress, and a first-class award in Scientific and Technological Progress from the Ministry of Education (MOE). Professor Wang was conferred an honorary degree of Laws by the University of Liverpool in 2009 and an honorary professorship of the Polytechnic of Torino, Italy.
Professor Wang has been serving the nation with his knowledge and expertise in various capacities, including as Technical Commissioner of the Science and Technology Commission of MOE, Vice Chair of the China Electro-technical Society and Chair of the Chinese Special Committee of Intelligence Electrical Equipment and System. He also presides over national scientific research projects which include the Mega-project of Science Research, Major Program of the National Natural Science Foundation of China and the "973" programme.
For more than a decade, PolyU and XJTU have been academic collaborators and Professor Wang has played a critical role in fostering this close partnership. His staunch support has helped bring together the teaching resources of both universities to offer professional degree programmes and courses, enabling the nurture of talents with specialized knowledge and global perspectives. In addition, PolyU has benefited from Professor Wang's insightful advices to the PolyU International Advisory Board by serving as a member since 2010.
Chairman Yang, University Council Members, President Tong and Honoured Guests,
It is my greatest honour to receive the honorary Fellowship conferred by PolyU at the beginning of the new year 2015. I take this as a great privilege as well as a recognition of the long-term relationships between PolyU and Xi'an Jiaotong University (XJTU). For this, I would like to express my deepest gratitude.
I knew my counterparts at PolyU some 15 years ago. At that time, our country has just launched the strategy for the Western Development Program. All parties concerned responded with ambitious plans and actions, hoping to make use of this unparalleled opportunity to contribute to the development of the society and the nation. Riding on this occasion, the PolyU senior management visited the Chinese mainland to explore the feasibility of forming some strategy partnerships.
Xi'an Jiaotong University was privileged to be chosen as PolyU's partnering organization. After a series of detailed discussion and planning, the two universities jointly established Xi'an Tongli International College with a view to nurturing senior management professionals for the development of western China. The project went smoothly and up to now, there are more than 2,000 students graduated from this College. They have contributed significantly to the development of western China. The project, which is widely recognized by the various sectors, has served as a model for academic collaboration between Hong Kong and the Chinese mainland.
I have personally participated in the implementation of this program and have been very attentive to its development. I am indeed very proud of its achievements. Through this project, I have also gained a better understanding of the vision of PolyU's senior management, their strong sense of social responsibility, the positive culture and the friendship between the faculty members and the students.
There is a Chinese saying which goes, "A long road tests a horse's strength and a long task proves a man's heart." After working together for 15 years, we have become very close friends. I expect the collaboration between XJTU and PolyU could be further strengthened and be even more productive. I will also give my best to foster the collaboration of the two universities and facilitate its sustainable development.
Once again, I would like to offer my sincere gratitude to PolyU for giving me this honour. Thank you.