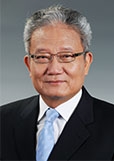 2014 University Fellow
Dr Dennis Ng Wang Pun
BBS, MH
Dr Dennis Ng, Managing Director of Polaris Jewellery Manufacturer Limited (Polaris), holds a Doctor of Business Administration degree from the Asia International Open University (Macau) and a Master's degree in Materials Engineering from Yanshan University. He founded Polaris, an ivory ornaments and jewellery trading company, in 1980. Guided by Dr Ng's capable leadership, Polaris has now evolved into one of the major jewellery manufacturers in Hong Kong, complemented with services including jewellery design and production.
While heavily engaged in his business, Dr Ng gives back to society whenever possible. He has been serving on various committees of professional bodies and organizations in Hong Kong, the Chinese mainland, and even Africa. He was the first term Member of the Small and Medium Enterprises Committee and Part-time Member of the Central Policy Unit of the HKSAR Government, contributing to the overall development of Hong Kong. He is Member of the Consultative Committee on Economic and Trade Co-operation between Hong Kong and the Mainland, Council Member of the Hong Kong Productivity Council and Vice President of the Chinese Manufacturers' Association of Hong Kong. He also serves as a member of Guangzhou Panyu District Committee of the Chinese People's Political Consultative Conference and Vice President of the Gems & Jewelry Trade Association of China. In 2002, Dr Ng was appointed by the Federal Democratic Republic of Ethiopia as its first Honorary Consul in Hong Kong and Macau.
Dr Ng has been dedicated to social and community services. In recent years, it has come to his attention that the index tracking how happy Hongkongers are has remained low for this Asia's world city. In view of this, Dr Ng joined hands with friends who shared the same vision to found the Promoting Happiness Index Foundation in 2011, and has since served as its Chairman.
Dr Ng strongly believes that knowledge is the key to changing one's life and has rendered wholehearted support to advance the development of local universities. Over the years, PolyU has benefited from Dr Ng's support and generosity, particularly with his sponsorship and participation in the PolyU Invitational Tennis Tournaments in 2004 and 2006. He was also the Convener of the
Organizing Committee of the University's golf tournaments from 2010 to 2013. In 2014, Dr Ng was elected as the Organizing Committee Chairman and Convener of the PolyU CMA 80th Anniversary – Mainland China, Taiwan, Hong Kong and Macau Invitational Golf Tournament 2014, supporting PolyU fundraising events and activities through his extensive business and political network.
The contributions Dr Ng has made to the development of small and medium enterprises have been remarkable. He was awarded the Medal of Honour by the HKSAR Government in 2007 and a Bronze Bauhinia Star in 2013 in recognition of his success in the jewellery industry and his dedication to serving the society.
Chairman Yang, University Council Members, President Tong and Honoured Guests,
First of all, let me start by saying that I never imagined The Hong Kong Polytechnic University would confer upon me this Fellowship. It is indeed my great honour to receive this title.
Born and raised in Hong Kong, I am now 64 years old. I started working at a very young age, time flies and some 50 years have passed by. I had worked at factories producing garments, paper products and ivory jewellery, and it was at the last one in which I have identified the direction for my life. I consider my then employer a mentor, who had enriched my experience and knowledge of the industry. After working as an employee for over ten years, I had built up a considerable network of clients. I took English courses in my spare time and this has facilitated my career development. At the time when I was approaching 30, I have a family to raise. Driven by the desire to start my own business, I founded Polaris Jewellery Manufacturer Limited with my partner in 1980. Over the past three decades, the business has been running smoothly, and now I am able to devote more time and energy in social, community services, as well as education.
I am grateful to have the opportunities to take up some key roles in various organizations over the years, with strong support from my friends in different fields. I was also appointed by the HKSAR Government to sit on a number of advisory committees and professional bodies. In serving the community, I am particularly concerned with the fact that while Hong Kong is positioned as Asia's world city, the happiness index of Hong Kong people ranks quite low in recent years. As such, together with friends who shared the same vision, I set up the Promoting Happiness Index Foundation in 2011 and have been serving as its Chairman. Through organizing various activities, the Foundation aims to help participants build up positive values towards life as well as develop a healthy lifestyle. Besides this, I have also keenly supported education. I firmly believe the saying, "A wise young generation builds a wise country; a strong young generation builds a strong country." With this in mind, I am committed to support education and in particular the development of PolyU, for I endorsed the
University's motto, "To learn and to apply, for the benefit of mankind," as well as PolyU's effort in nurturing talents.
As Hong Kong is becoming a knowledge-based economy, our society is bound to face more complex changes and tougher competition. However, as the saying goes, "nothing is too difficult for a determined mind," success will come when you persevere. I hope that all of us can "plan for uncertainty when at ease, and strive for change when in trouble."
Lastly, I must thank PolyU again for conferring upon me this Fellowship. I would also like to thank my family, colleagues and friends for their support, advice and encouragement, thus making my life more fulfilling and meaningful.