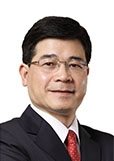 2014 University Fellow
Dr Humphrey Leung Kwong Wai
BBS, MH
Dr Humphrey Leung is Founder and Group Chief Executive Officer of Solomon Systech Limited (Solomon Systech). He established Solomon Systech, which specialises in the design, development and sales of high-tech integrated circuit (IC) products, in 1999. Under his able leadership, Solomon Systech has swiftly established itself as a leading company in the technology sector. It was listed on the Main Board of The Stock Exchange of Hong Kong Limited in 2004, being the first semiconductor company focusing on product design and development to be listed.
Dr Leung has committed himself to advancing the development of the semiconductor industry and serves on various committees of the HKSAR Government and professional bodies. He is Honorary Vice Chairman of the Hong Kong Electronic Industries Association (HKEIA) and Vice Chairman of the HKEIA Education Foundation, Vice President of the Hong Kong Semiconductor Industry Council, Director of the Nano and Advanced Materials Institute Limited and Member of the Steering Committee on Innovation and Technology of the HKSAR Government. He also serves as Vice President of the Executive Council of China Semiconductor Industry Association IC Design Branch (CSIA-ICCAD) and Member of the Technical Advisory Committee of the National ASIC Engineering Research Centre (Hong Kong Branch). Dr Leung has also taken every opportunity to serve the community and shows great commitment to corporate social responsibility by leading his colleagues to participate in charity events and environment-related activities.
An industrious learner for life, Dr Leung graduated from the Hong Kong Polytechnic, the predecessor of The Hong Kong Polytechnic University, in 1979 with a Higher Diploma in Electronic Engineering and later received an Associateship in Electronic Engineering in 1981. He obtained a Master of Science degree in Engineering from The University of Hong Kong in 1990 and a Doctor of Business Administration degree from PolyU in 2010 respectively.
A fervent supporter of local universities since the 1980s, Dr Leung has been actively involved in PolyU's activities including training programmes for students, programme planning and project development. He is CEO Fellow Member of the CEO Club of the PolyU Institute for Entrepreneurship. He has served as an Advisory Board Member of the Centre for Leadership & Innovation of the Department of Management and Marketing since 2010 and Advisory Committee Chairman of the Department of Electronic and Information Engineering since 2011. In addition, Dr Leung has been former Court Member of the Hong Kong University of Science and Technology and Advisory Committee Member of its School of Engineering.
Dr Leung received the Young Industrialists Award of Hong Kong from the Federation of Hong Kong Industries in 2001, and was presented the Outstanding PolyU Alumni Award in 2003. He was conferred the Outstanding Achievement Award by CSIA in 2004 and an Honorary Fellowship by the Hong Kong University of Science and Technology in 2007. In recognition of his contributions to society and the industry, Dr Leung was appointed Justice of the Peace by the HKSAR Government in 2013.
Chairman Yang, University Council Members, President Tong and Honoured Guests,
I would first like to express my heartfelt thanks to The Hong Kong Polytechnic University for conferring upon me the honour of this Fellowship. This is a prestigious honour that I dearly treasure. A big reason why I feel so honoured and yet humbled by the University Fellowship is my strong ties with PolyU, my alma mater, which started almost 40 years ago when I was an Electronic Engineering student.
If I have to summarise the life-long benefits that PolyU has provided me, I would use a few words starting with the letter "P."
The letter "P" not only stands for "PolyU." To me, it also aptly symbolises the more profound concepts of "Profession," "Person," "People," and "Passion," concepts crucial to our success as individuals and the progress of our society.
PolyU, as a distinguished university, offers the opportunity for an excellent education and training to prepare the graduates (including me) to build a productive career in our "Profession."
Furthermore, inspired by the motto of "To learn and to apply, for the benefit of mankind," PolyU aims to instill in each "Person" enrolled in its courses a desire for life-long continuous learning and sharing. Only through continuous learning can we advance our knowledge and develop the capability to create and capture opportunities as they arise, overcome challenges and contribute to the benefit of society.
As education is a life-long pursuit, our relationship with PolyU has continued even after graduation. From time to time, as we face new challenges, we may come back to PolyU to meet with our Professors and President to seek advice and share our real-world experiences.
I am profoundly grateful to all of PolyU's "People," in particular President Tong, Professors, Faculty members and all those PolyU staff whom I have had the pleasure to both gain knowledge from as well as work together with.
I am also grateful to all of the other "People" I have shared experiences with throughout my life, including my colleagues, friends and associates in my profession as well as my beloved family, my parents, my wife, my three boys and their friends in my personal life. Their sharing, their love and their unwavering support have not only contributed to whatever professional success I have enjoyed. More fundamentally, they have made me the person who I am today.
Therefore I am proud to be a Fellow of PolyU, and I will continue with my "Passion" for what I have been doing while contributing to the benefit of the community and mankind. I am passionate about what I believe, and I believe that when we follow our passion, success will follow us.
Thank you.