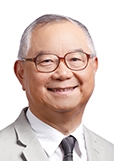 2016 University Fellow
Mr Alex Lui Chun-wan
Mr Alex Lui Chun-wan is a renowned architect and city planner. After graduating from The University of Hong Kong and Massachusetts Institute of Technology, he has practised in the U.S., Singapore and Hong Kong. His famous local projects include the campus of Hong Kong University of Science and Technology, Ma Wan Comprehensive Development Area, Healthy Village Redevelopment and Wong Chuk Hang Hospital. He was also involved in developing the Henderson Centre in Beijing and the China Merchants Bank building in Shanghai. Apart from his private practice, he had also taught in The Chinese University of Hong Kong's Department of Architecture.
An active member in various public, community and professional bodies in the past 25 years, Mr Lui has been giving back to the society by serving on various construction and town planning- related regulatory and advisory committees, such as Appeal Tribunal Panel of the Buildings Ordinance, Appeal Board under the Construction Workers Registration Ordinance, Authorized Persons and Registered Structural Engineers Registration Committee, and Town Planning Board and Rural Committee. He has been a member of Hong Kong Housing Society for years and is currently on its Elderly Housing and Design and Construction Task Force. As a committee member of The Hong Kong Institute of Architects and the Hong Kong Institute of Planners, Mr Lui also strives to raise the standard of services offered by fellow architects and city planners.
Mr Lui has been providing PolyU with his professional insights in education and campus development since 2010. He was our former Council member, chairman of the Council's Campus Development Committee, member of the Board of Hotel ICON and currently a University Court Member. Since 2013, Mr Lui has been chairing our Green Deck Task Force to tackle the environmental issues in the Cross Harbour Tunnel neighbourhood. Linking Hung Hom MTR station and PolyU campus, the proposed deck provides 43,000 square metres of open space for recreational, cultural and sports uses. Mr Lui also contributed much to the campus expansion project on Ho Man Tin slope, featuring sky gardens, voids and glass structure that bring greenery, natural sunlight and ventilation into the campus.
When it comes to his philosophy of life, Mr Lui believes people matter. In both his personal and professional spheres, his sincerity and respect for others help build life-long relationships with people. When designing a building or a city, instead of focussing on the architecture itself, he is more interested in how the users interact with the space because a good building or city is one that people take pleasure to work and live in.
Chairman Chan, University Council Members, President Tong and Honoured Guests,
Congratulations on the 80th Anniversary of The Hong Kong Polytechnic University!
I am very happy and deeply honoured to receive this honorary title, University Fellowship, from The Hong Kong Polytechnic University, which is also my alma mater.
Besides honouring me with this title, I have many other reasons to thank my alma mater. First of all, I owe much to it in introducing me to knowledge in building, and preparing me to receive higher education on my profession as an architect and city planner, which has enabled me to work in Hong Kong and other parts of the world serving communities of different countries and cultures, much enriching my life.
Secondly, on my retirement from my professional work, PolyU has invited me to return to join as Council Member, so that I could have an opportunity to serve my alma mater, its teachers and students, making the later years of my life purposeful, meaningful and fruitful.
Thirdly, those six years serving as a member of the Council have been very challenging, happy and rewarding, for I was constantly at the forefront of Hong Kong's higher education, which is both enlightening and stimulating, and mingled with a group of highly scholarly, hardworking and dedicated people on a daily basis.
Over these six years, I am particularly gratified about two things that I have got started at PolyU, although not yet completed. First of all, I have helped to secure a site on Ho Man Tin hillside for the development of a new PolyU campus consisting of teaching facilities and a students' hostel. I am glad to see that this project has already received the Government's blessing and would go ahead to completion in 2024.
The second one is to propose to the Government to build a 'Green Deck' over the Hung Hom Cross Harbour Tunnel Toll Plaza to improve the environment around PolyU campus, and to provide a green park for use by local communities, teachers and students so that pedestrian and bicycle activities would be safe, convenient, and pleasant, on the 'Green Deck' above the heavy traffic on ground. This is an innovative social project of a grand scale for the long-term benefit of the local communities. I am honoured to be named the Chairman of a Task Force to promote this project for PolyU.
Ladies and gentlemen, you all are friends of PolyU. PolyU's campus is among the smallest in Hong Kong; it has very little space for outdoor recreation. I would like to take this opportunity to appeal to you to support PolyU's 'Green Deck' proposal to improve the environment and to have more amenities for recreation for local people and our students. You would find a leaflet in your programme booklet, which explains about our ideas of the proposed 'Green Deck'. We would be grateful if you would write or email back to us pledging your support to this innovative project, and we would keep in touch with you to inform you of any further developments. I can assure you that this small and yet meaningful act would bring you much happiness for helping to bring good environment to the Hung Hom and PolyU communities.