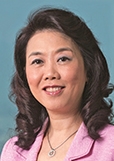 2016 University Fellow
Mrs Yvonne Law Shing Mo-han
JP
Mrs Yvonne Law Shing Mo-han, now Chairman of Yinn Advisory Services Limited and Senior Advisor of Deloitte Touche Tohmatsu, had been a partner with the internationally renowned accounting firm for over 26 years. Her career achievements were widely recognized by professional bodies which bestowed innumerable accolades upon her, including the title of "Leading Tax Advisor" in Hong Kong and the Chinese mainland for 15 straight years by International Tax Review, an authoritative media for tax professionals worldwide.
Mrs Law also cares about enhancing the standard of practice and public recognition for professional accountants, and has served on various professional bodies, including being a founding member and past President of the Association of Women Accountants Hong Kong, former Chairman of Hong Kong Institute of Certified Public Accountants' Taxation Committee, and current Vice Chairman of The Hong Kong General Chamber of Commerce's Taxation Committee. On top of that, she also writes columns for local papers and periodicals on the subjects of finance and taxation, while blogging on human resources management issues and youth career development.
Graduated in 1977 from the Hong Kong Polytechnic, the predecessor of PolyU, Mrs Law has been keenly giving back to her alma mater. She had been our Council member for six years, chaired the Council's Audit Committee for three years, and is now our Court member. Mrs Law won PolyU's inaugural Outstanding Accountancy Alumni Award in 2000/2001, and was named an Outstanding Alumna in 2007.
Mrs Law takes a great interest in art and culture. She has been receiving lessons on classical vocal music for over 10 years and enjoys going to concerts. She studied Chinese literature, Chinese and western history in her secondary school before concentrating on her accounting major at the Polytechnic. All these have a profound influence on her artistic sensibility and have attributed to her ardent commitment and sound foundation on various public offices related to art, creative industry and conservation of historical architecture. She is the Treasurer and a council member of the Hong Kong Academy for Performing Arts, Vice-Chairman of CreateHK's CreateSmart Initiative Vetting Committee, a member of the Advisory Committee on Built Heritage Conservation and Antiquities Advisory Board, and was once a member of the Hong Kong Film Development Council. Her diverse government appointments also include previously a member of ICAC's Citizens Advisory Committee on Community Relations and currently its Corruption Prevention Advisory Committee, previously the Hospital Authority Board and currently Chairman of the Shatin Hospital Governing Committee.
Having confidence in herself and her professionalism, Mrs Law doesn't only set eyes on matters beyond her control. Her personal motto being "Do your best and follow your destiny," she believes in always giving her heart and her best, and that there are always some mitigating acts that can be done when facing problems. But she understands those alone do not always guarantee success and one has to bow to the inevitable and accept the destiny.
In her opinion, ideal university education should let young people pursue their dreams, expose themselves to varied disciplines of knowledge, and think out of the box – a direction PolyU is evolving towards.
Chairman Chan, University Council members, President Tong, Honoured Guests, Good Afternoon,
I'm flattered to receive the honour of University Fellow from PolyU today. This is actually the third time I am receiving an honour from PolyU, the first being the Outstanding Accountancy Alumni Award, the second being the Outstanding PolyU Alumni Award and now the Fellowship. And I certainly hope there's a fourth.
I must express my thanks to PolyU – and wish to use it as acronym as each character has a special meaning to me:
For P - I wish to thank President Tong for his continued and unwavering support especially during my six years as Council Member and Chairman of the Audit Committee. He is both an excellent leader and a true gentleman!
For O - I remember the good old days when I took my accountancy lessons at where the Taikoo Shing estates are today. It was until my final year that we moved to the first phase of the current PolyU campus. The Hong Kong Polytechnic has come a long way in its transformation to PolyU of today, a highly respected university providing diverse programmes including unique ones like Design, Optometry, Occupational Therapy, and having the renowned School of Hotel and Tourism Management with a self-managed teaching hotel, Hotel ICON. And, the Polytechnic was the first institution in Hong Kong with an Accountancy major, in which I focused my own studies.
For L - I wish to express my love to my other alma mater, Belilios Public School, which has given me my foundation in languages and character development. My deepest love also goes to my family, relatives and close friends, many of whom are here today to witness me receiving this honour. I did work hard but without your support, I couldn't have come this far.
For Y - I wish to thank each and every one of you here today for spending your valuable weekday hours or even taking your time-off to be with both myself and others on the stage.
Last but not least, I wish to thank the U, the PolyU, itself for having nurtured people like myself and many, many others. We will in turn do our best to contribute to the society and be always proud to call ourselves, wherever we are, a graduate from the Hong Kong Polytechnic/ PolyU.
Long live PolyU!