Leadership Forum on Service Design 2023
Conference & Seminar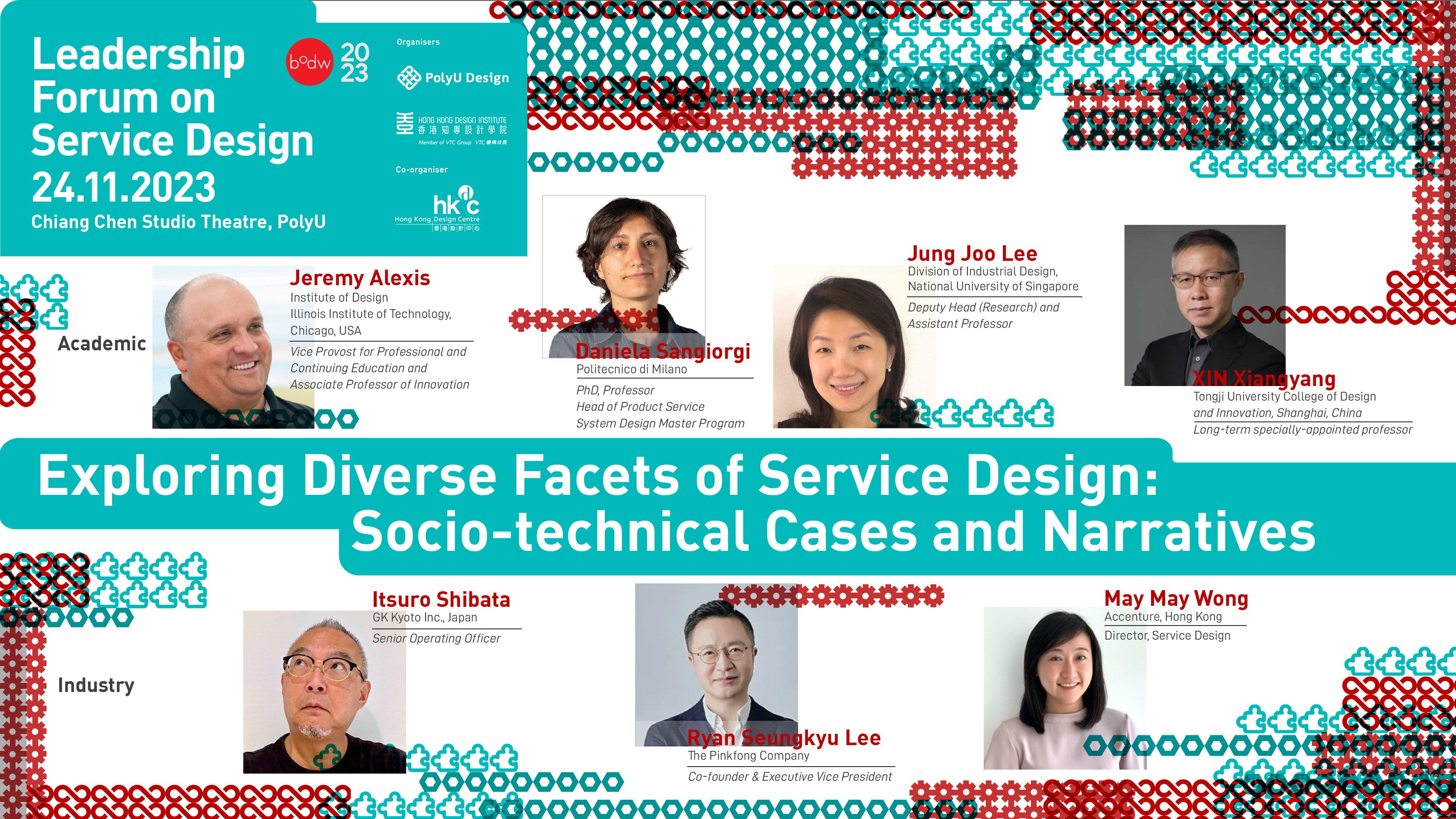 Organiser

PolyU Design & HKDI

Venue

Chiang Chen Studio Theatre, PolyU & Online Map
Summary
Join us live on bilibili 
观看平台 哔哩哔哩直播 (无需注册)


The Leadership Forum on Service Design, as part of the Business of Design Week (BODW) 2023,  is a co-organised event of The Hong Kong Polytechnic University School of Design and the Hong Kong Design Institute. This year, the Leadership Forum is scheduled on 24th November, as a hybrid event. Again, the Forum brings together industry professionals and academic leaders to share their perspectives and insights.
Recognising the significance of service design, this year's leadership forum has adopted the theme 'Exploring Diverse Facets of Service Design: Socio-technical Cases and Narratives'.
Through this forum, we aim to delve into three essential questions that underpin the theme. Firstly, we will examine the key components derived from real-life experiences that shape the concept of service design. Secondly, we will explore ways to cultivate personalised perspectives on service design, enabling the creation of heterogeneous features within the service design process and its outcomes. Lastly, we will investigate the role of service design in driving successful innovation processes and outcomes.
The Leadership Forum will be a full-day event bringing together renowned leaders from industry and academia for high-level dialogues and discussions to provide insights to shape the future of service design. Registrants can choose to attend in-person or online. 
Registration: HERE
---
Speakers
Academic
Jeremy Alexis
Vice Provost for Professional and Continuing Education and Associate Professor of Innovation
Institute of Design, Illinois Institute of Technology, USA
Jeremy Alexis is an Associate Professor of Design and a Vice Provost at the Illinois Institute of Technology (Illinois Tech). At the IIT Institute of Design (ID), he teaches Analysis and Synthesis in Design (a foundation design process class) and Innovation Methods (a survey class on advanced innovation methods). As Vice Provost, Jeremy leads innovation and growth initiatives for the university. He has also developed professional training programs on innovation and design at organisations including Northwestern Mutual, the Veterans Health Administration, United Airlines, FedEx, Nestle/Purina, Ford, The Kresge Foundation, and Memorial Sloan Kettering Cancer Center.

Before joining the university Jeremy worked as an innovation strategist at Doblin (now part of Deloitte) and Gravity Tank (now part of Salesforce).
Topic: Decision making in service design: improving the speed and quality of our decision making for service design
Daniela Sangiorgi
PhD, Professor, Head of Product Service, System Design Master Programme
Politecnico di Milano, Italy

Professor in Design at Politecnico di Milano (Italy) since September 2015, after working eight years at Lancaster University in UK, where she collaborated in the foundation and development of the new research center ImaginationLancaster. She has a PhD in Design and a Degree in Industrial Design at Politecnico di Milano.
One of the first scholars in the newborn field of Service Design, she has been working since the beginning in the scientific development of its knowledge base and community. She is currently the Head of the Product Service System Master programme at the School of Design of Politecnico di Milano.
Topic: Transformative service design and service design transformation
Jung-Joo Lee
Deputy Head (Research) and Assistant Professor
Division of Industrial Design, National University of Singapore
Dr Jung-Joo (JJ) Lee is a Deputy Head of Research and Assistant Professor at the Division of Industrial Design, National University of Singapore. She is also a founding director of Service Design Lab Singapore (servicedesignlab.net). JJ's research explores how Asian organisations adopt and situate service design for their transformation agenda, interacting with socioeconomic and political dimensions. She advocates the roles of service design for the development of emerging technologies, such as AI, Digital Twins, and Autonomous Vehicles, in facilitating complex stakeholder collaborations centring around human experiences. She has collaborated with the Singapore Ministry of Manpower, the Ministry of Education, the Inland Revenue Authority of Singapore, the Land Transport Authority, the Urban Redevelopment Authority, the Government Technology Agency of Singapore (GovTech), Port of Singapore Authority (PSA), OCBC Bank, DBS Bank, Johnson Controls, Rolls-Royce Marine, Tan Tock Seng Hospital and so on, to help their journeys toward human-centred service innovation.
Topic: Innovation Catalyst or Fad? – Diagnosing service design adoptions in Asia and envisioning its future directions
Xiangyang Xin
Long-term Specially-appointed Professor
Tongji University College of Design and Innovation, China
Xiangyang Xin, PhD, founder of XXY Innovation, President of Chinese Service Design Congeress, Professor at Tongji University, Adjunct Professor and Director of Institute of Design Thinking and Sociotechnical System Design at Guangzhou Academy Academy of Fine Arts, Adjunct Professor at Taiwan Shih Chien University and Sichuan Academy of Fine Arts.

Xin holds a PhD in Design from Carnegie Mellon University with interests in interaction, experience, service and organization design. He had served as former Dean of Design at Jiangnan University, founded and served as the leader of MDes Interaction Design at the Hong Kong Polytechnic University, served as a jury member on competitions including IXDA, G-Mark, Red Star and many others,

With education and professional background spreads across design, architecture and mechanical engineering, Xin has spoken internationally on design and cultural studies, and worked with partners including Efficiency Unit of Hong Kong Government, P&G, Changhong, Huawei, Tencent, Aurora, ASTRI (Applied Science and Technology Research Institute) Hong Kong, Samsung, Philips etc. Xin has received awards including "40 Chinese Designers of 40 Years of Economic Reform and Opening," "70 Designers of 70 Years of New China," "2015 Future Voice of Interaction Design" from IXDA, "Gold Medal Contribution to Design" from Dragon Design Foundation, twice Second-Class National Teaching Award (2018 and 2022), 2017 Jiangsu Provincial First-Class Teaching Award, 2013 CIDA (Chinese Industrial Design Association) "10 Best Industrial Design Educator of China," etc.
Topic: Nature of A Service and Service Businesses
Industry
Itsuro Shibata
Senior Operating Officer
GK Kyoto Inc., Japan
Itsuro Shibata, working at GK Kyoto (a group company of GK Design Group in Japan), is a design researcher and strategist. He has led various projects on product innovation, service design, and branding. His current interests are re-defining value of Japanese traditional culture, and embedding creative mindsets to non-design sectors in organisations.
Topic: Service Design in the Old-Fashioned World
Ryan Seungkyu Lee
Co-founder & Executive Vice President
The Pinkfong Company, South Korea
Ryan Lee is the Co-founder and Executive Vice President of The Pinkfong Company, the global entertainment company creating original content across children's education, games and animation with its beloved children's brand, Pinkfong. Committed to providing creative and fun learning experiences for children around the world, The Pinkfong Company has produced more than 6,000 songs and stories including its well-known 'Baby Shark' video, the most-watched YouTube video with over 13 billion views. Our passion to develop entertaining and creative content runs through Pinkfong, one of the most influential brands for kids with its award-winning mobile app series achieving 400 million downloads across 164 countries to date. 
With extensive knowledge and experience in the content industry, Ryan specializes in developing business strategies, monetizing business plans, and building strong business relations. Upon graduating from university, Ryan joined Nexon, an international game publisher. He pioneered the free-to-play and micro-money transaction system of the games, expanding licenses of the games and characters to other businesses. After co-founding The Pinkfong Company, he has been leading global business strategies and market development of its company, successfully raising vital funds for the business.
May May Wong
Director, Service Design
Accenture, Hong Kong
May May is the Service Design Director at Accenture Song based in Hong Kong. She has over 15 years of experience on customer research, service design strategy, user experience design and capability build in agencies and corporates. Before joining Accenture, she used insights to shape the future experience of Mox, one of the virtual banks in Hong Kong, and Asia Miles, Asia's leading travel and lifestyle rewards programme.
---
Rundown
AM Session
Time (HKT or UTC/GMT +8 hr)

Moderator: Dr Jaden Park
School of Design,The Hong Kong Polytechnic University

9:00 AM

Registration

9:30 AM

Welcome Remarks
Prof. Kun Pyo Lee

Dean, School of Design, The Hong Kong Polytechnic University

9:40AM

Introduce of this year Leadership Forum theme
Dr Jaden Park

School of Design, The Hong Kong Polytechnic University

9:50AM



Prof. Jeremy Alexis

Vice Provost for Professional and Continuing Education and Associate Professor of Innovation
Institute of Design, Illinois Institute of Technology, Chicago, USA

10:20AM



Mr Itsuro Shibata

Senior Operating Officer
GK Kyoto, Japan

10:50AM

Networking break

11:00AM



Prof Daniela Sangiorgi

Associate Professor of Design
Politecnico di Milano, Italy

11:30AM

Panel Discussion 1.

Chair: Dr Jaden Park, PolyU Design

Speakers: Prof. Jeremy Alexis; Mr Itsuro Shibata; Prof. Daniela Sangiorgi and Prof. Kun Pyo Lee

12:15PM

END of AM Session
PM Session
Time (HKT or UTC/GMT +8 hr)

Moderator: Mr Keith Tam,
Vice-principal of HKDI

14:00PM

Prof. Eric Yim

Chairman
Hong Kong Design Centre

14:20PM

Dr Jung-Joo LEE

Deputy Head (Research) and Assistant Professor
Division of Industrial Design, National University of Singapore

14:50PM

Prof Xiangyang XIN

Founder of XXY Innovation
Mainland China

15:20PM

Networking break

15:30PM

Ms May May Wong

Director, Service Design
Accenture, Hong Kong

16:00PM

Mr Ryan SeungKyu LEE

Co-founder & EVP
The Pinkfong Company

16:30PM

Panel Discussion 2.

Chair: Mr Keith Tam, HKDI

Speakers: Dr Jung-Joo LEE; Mr Ryan SeungKyu LEE; Ms May May Wong and Prof. Xiangyang XIN

17:15PM

Closing Remarks: Mr Keith Tam,
Vice-principal of HKDI

17:30PM

END of Forum