PolyU hosts insightful webinar on "Fintech Development and Opportunities in the Greater Bay Area" during Hong Kong Fintech Week
Events
Institute for Entrepreneurship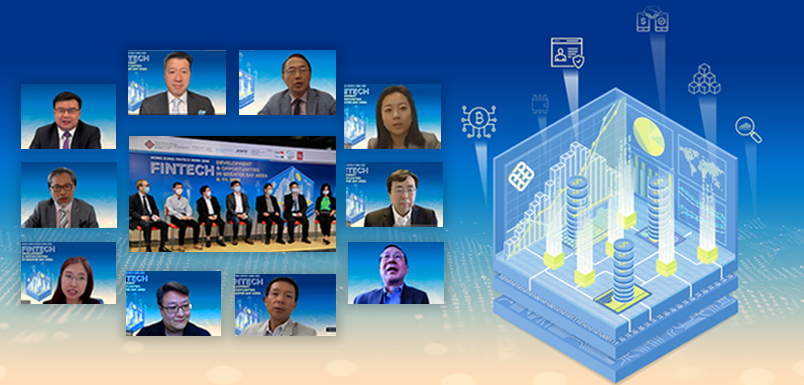 The Hong Kong Polytechnic University (PolyU) organised a webinar on the topic of "Fintech Development and Opportunities in the Greater Bay Area." The webinar was held on the first day of Hong Kong Fintech Week, Asia's flagship annual fintech event, which took place from 2 to 6 November 2020. PolyU is a leading educator in fintech, providing an extensive array of cutting-edge programmes that equip students with the essential technical expertise and knowledge they need to navigate the transformational impact of fintech on the global financial ecosystem. The webinar attracted significant interest, with over 400 people registering.
During the three-hour event, leading academics from PolyU and distinguished speakers from the fintech industry shared their outlook on fintech in the Guangdong-Hong Kong-Macao Greater Bay Area. They explored ways to foster mutually beneficial fintech collaboration among the cities in the region. The speakers also discussed strategies to facilitate talent development in order to cope with the rising demand for expertise driven by the rapidly evolving fintech industry. They examined how to position Hong Kong as a key player in the development of fintech in the Greater Bay Area.
In her opening remarks, PolyU Executive Vice President, Dr Miranda Lou, stressed that "the fintech sector in Hong Kong has been growing rapidly to become a vibrant and exciting community. Coupled with Hong Kong's traditional strengths in financial services, the city's robust technological infrastructure and established regulatory system have been driving Hong Kong as a world-class fintech hub." She also noted that the excellent variety of fintech programmes available at PolyU will help make impactful contributions to the fintech industry in Hong Kong and the Greater Bay Area.
PolyU looks forward to arranging further insightful fintech events that leverage the University's pioneering expertise in the fintech space in the near future.
About PolyU's fintech programmes
PolyU is proud to have launched several fintech-related undergraduate, master's and doctorate programmes as well as Certified Financial Technologist programmes, to address the need for talent in the industry. The FinTech doctorate programme, the first of its kind in Hong Kong, nurtures academic leaders for the industry, with the curriculum integrating theory, academic research and application to enhance the relevant knowledge and resilience of corporate management teams. At the same time, PolyU's Department of Computing is committed to researching the technologies that are critical to the development of fintech, such as blockchain, cybersecurity and machine learning.