"Keep the sporting spirit alive"– Physical Education Officers Kenny Leung and Kenneth Lam share their passion for promoting a sports culture at PolyU
Having a true sporting spirit is not just about seeking victory over your opponent; it's also about enduring and persevering despite challenges along the way. This mindset of resilience is indeed a vital part of enhancing the whole-person development of every individual, leading people to live a healthy and positive life.
PolyU takes pride in its sports culture and is committed to nurturing talented student-athletes by providing all-rounded support - hoping to help them strike a balance between academic work and the pursue of sports achievements. The University is proud to have a strong Sports Development Team at the Student Affairs Office, who are dedicated to sports promotion and the training of the PolyU Sports Teams.
Meet Kenny Leung (Senior Physical Education Officer) and Kenneth Lam (Physical Education Officer), who have contributed immensely to the University's unique sports culture and supported the PolyU Sports Teams in recently snatching three consecutive Grand Slams at the Inter-collegiate competition.
I strive to become a devoted coach and an enthusiastic educator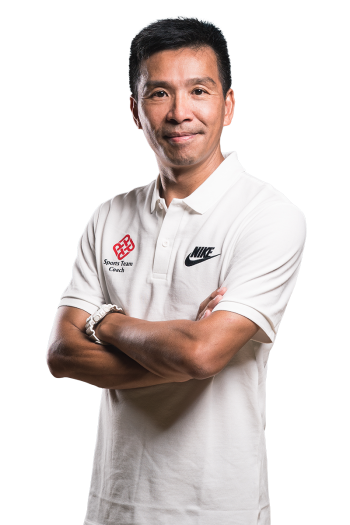 Kenny joined PolyU as an Assistant Physical Education Officer in 1994 and is now the head of the Sports Development Team of the Student Affairs Office. Before that, he was a PE teacher in secondary schools. "I see myself as an educator - I wish to nurture young players to build up their team spirit, interpersonal skills, righteousness, and sportsmanship through sports."
Kenny plays a key role in promoting physical wellness in the PolyU community and trains elite student-athletes to excel in local and international competitions. However, training has become particularly difficult in the past year, due to the global pandemic. "The Inter-collegiate competition in 2019/20 was cancelled and only 22 out of 32 sports competitions were organised this year. We have to make special team training arrangements, such as an at-home exercise training programme, as well as individual and small group training so that our student-athletes can keep up their performance."
Besides his "office work", Kenny has also served as the coach of the basketball team of PolyU for the past 20 years. "I felt wonderful when the Men's team in 2011/12 brought the Championship title back to PolyU after 20 years ." He still remembers how excited the student-athletes were when they turned defeat into victory at the last minute. "The screams and cheers from our student-athletes showed their passion, spirit and sense of belonging. I was thrilled to see these emotions from my students." He adds that "Whether they lose or win in competitions, our athletes learn the important lesson of 'do your best, overcome adversity, be humble and never give up'."
Kenny also strives to broaden the exposure of the student-athletes. "We provide leadership training to elite athletes through a leadership camp and exchange programmes with overseas universities. A Sports Leaders Executive Committee has also been formed, in which sports leaders learn how to organise events like Info Day, Sports Team Orientation Camp, Annual Prize Presentation Ceremony, and more."
In his opinion, the benefits of sports are countless. "Sports is essential for people of all ages. It brings about a positive impact on the body, mind and spirit, helping us elevate our work performance. Students can also learn the importance of team work, discipline, and fair play."
I wish to help young people unleash their potential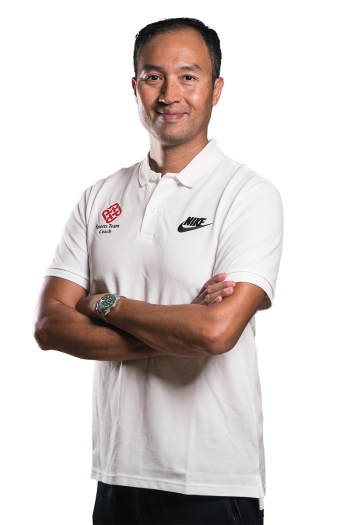 Just like Kenny, Kenneth also worked as a PE teacher before joining PolyU in 2012. "I began my career at PolyU as an Assistant Physical Education Officer and was promoted to Physical Education Officer in 2018." He adds, "I am pleased to be able to use this platform to share my experience with the young athletes, supporting them to achieve a higher goal in their sports endeavours."
Kenneth is responsible for managing various sports teams, handling training issues, venue allocation, competition issues, overseas training programmes, the outstanding sportsman recommendation scheme as well as other Physical Education related initiatives. He shares Kenny's view that 2020 has been a challenging year for sports players, since the world has been hit hard by COVID-19. "Almost all competitions were suspended and training venues were closed. Our student-athletes were disappointed and losing sight of their goals," Kenneth says. With a deep-rooted sporting spirit, Kenneth and his fellow teammates eventually managed to overcome this tough time. "Our team coaches and managers worked together to figure out various new training methods such as online ZOOM fitness training and E-Learning materials. We put together our thoughts on how to maintain the teams' training load and fitness levels during the pandemic, so they could be well-prepared for upcoming competitions."
In fact, thanks to this unexpected pandemic, PolyU's Sports Teams have grown stronger than ever. "Our teams performed so well and brought home the Yearly Men's and Yearly Women's Overall Championships in the Inter-Collegiate Sports Competitions this year!"
Furthermore, Kenneth is happy that PolyU has given its full support to groom and grow sporting talents, enabling a sports culture to thrive on campus. He believes that Physical Education benefits not only student-athletes, but every student. "We provide sports skill training courses and fitness training courses on a regular basis for PolyU students." He hopes everyone will enjoy doing sports and subsequently be able to discover their hidden potential.