Role of PolyU highlighted in celebration of Nation's space achievements
A high-profile visit by China's top astronautical scientists and the first-time display of a lunar soil sample in town have not only promoted Hong Kong citizens' pride about the Nation's space achievements, but also showcased how the city could play a major role in the Nation's drive for scientific and technological innovation.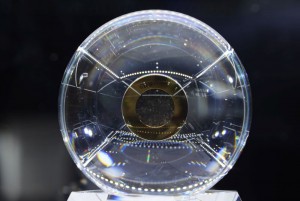 The delegation, featuring veteran scientists who have participated in China's space programme since its infancy, as well as leading engineers who spearhead the Nation's latest Mars and Moon missions, kick-started their visit on 23 June 2021 at PolyU and followed with a series of lectures and school visits, reaching out to local youths with their inspiring talks on the Nation's astronautical endeavours.
The tour came to another climax when the lunar regolith sample, collected by the Chang'e-5 spacecraft last year, was unveiled on Saturday at the Hong Kong Convention and Exhibition Centre and will be on public display until 9 July 2021.
As Chief Executive Carrie Lam put it at the exhibition opening, Hong Kong people have particular attachment towards the lunar exploration programme "because of the involvement of Hong Kong's tertiary institutions", citing PolyU as the example.
Both the visiting scientists and state media spoke highly about the significance of PolyU's participation in China's space programme – shedding light on the opportunities from collaboration between Hong Kong and the Mainland in the country's innovation drive.
In an editorial of the People's Daily, it cited the PolyU-developed camera pointing system and Mars camera as success cases for such partnership. "This cooperation demonstrated that by fully utilising the institutional advantage of 'one country, two systems', Hong Kong could seize the opportunities from collaborating on technological innovations, co-developing the Belt and Road Initiative, and building the Greater Bay Area [together with the Mainland]."
Hu Hao, chief designer of the third phase of China's lunar exploration project and one of the delegates, agreed that collaboration between Hong Kong and the Mainland in aerospace projects should be stepped up. He said PolyU's contributions to the Nation's lunar and Mars exploration programmes has demonstrated Hong Kong's ability and strength in scientific research, and the city's capability of participating in the Nation's key science and technology projects.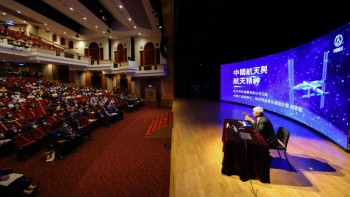 Zhao Xiaojin, Senior Vice President of the China Academy of Space Technology who led the delegation, also praised PolyU's researchers and other Hong Kong scientists' participation in key national astronautical projects, saying they "have demonstrated their edge in areas like education, basic research and international impact. Hong Kong has proven to be a highly effective partner in astronautical project collaboration."
The stellar delegates included two Chinese Academy of Engineering academicians: Qi Faren, the first chief designer of the Shenzhou spacecrafts; and Long Lehao, chief designer of the Long March series rockets. They were accompanied by Hu Hao of China National Space Administration; Xie Jun, chief designer of the third generation BeiDou Navigation Satellite System (BDS-3); Sun Zezhou, Tianwen-1 Mars probe's chief designer; and Zhang He, executive director of the Chang'e-4 lunar probe project.
It was a great privilege for PolyU to host the preeminent delegation's first and subsequent lectures in town delivered by Qi, Xie and Zhang. PolyU staff and students also had an exclusive dialogue with the scientists and their young Mainland counterparts, sharing their views on future developments and collaboration opportunities in the Nation's aerospace projects.
Dr Lam Tai-fai, Chairman of Council, PolyU, thanked the scientists for offering PolyU students as well as Hong Kong's youth "firsthand understanding of our country's astronautical development. The delegation will inspire the youth's enthusiasm towards the Nation's scientific research endeavours."
In addition, PolyU is honoured that the Centennial Exhibition on Chinese Scientists and Lunar Soil Sample at the Hong Kong Convention and Exhibition Centre, which showcases the accomplishments of Chinese scientists and features the precious sample of soil from the Moon, also includes a large booth that illustrates PolyU's pioneering contributions to national space missions.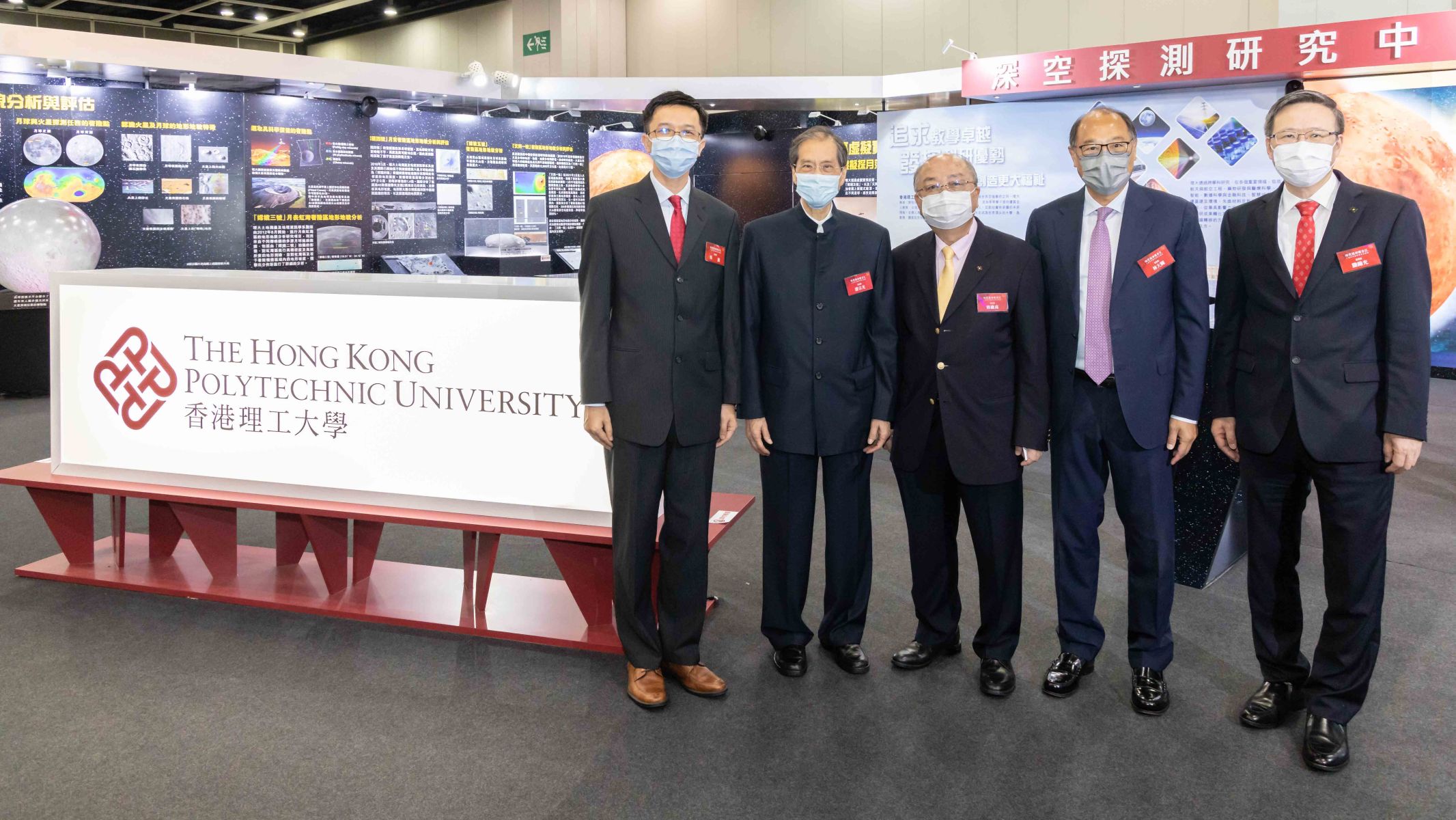 President Emeritus Prof Poon Chung-kwong (second from left) initiated cooperation with China National Space Administration's lunar exploration progamme back in 2006, including trainings, researches and academic exchanges.
Chief Executive Carrie Lam said her takeaway from the scientists' visit is that Hong Kong's development of innovation and technology could actually take on a national dimension.
"I have actually hosted a dinner for the delegation and talked quite in depth with the scientists and they all told me they were very proud and they were very pleased with the participation of The Hong Kong Polytechnic University in one of those space expeditions," Lam told local media.
Dr Tan Tieniu, Deputy Director of the Liaison Office of the Central People's Government in the Hong Kong SAR, praised PolyU's Professor Yung Kai-leung, Director of the University Research Centre for Deep Space Explorations, and Professor Wu Bo, Associate Head of Department of Land Surveying and Geo-informatics, for leading their research teams and making significant contributions to China's lunar and Mars exploration programmes.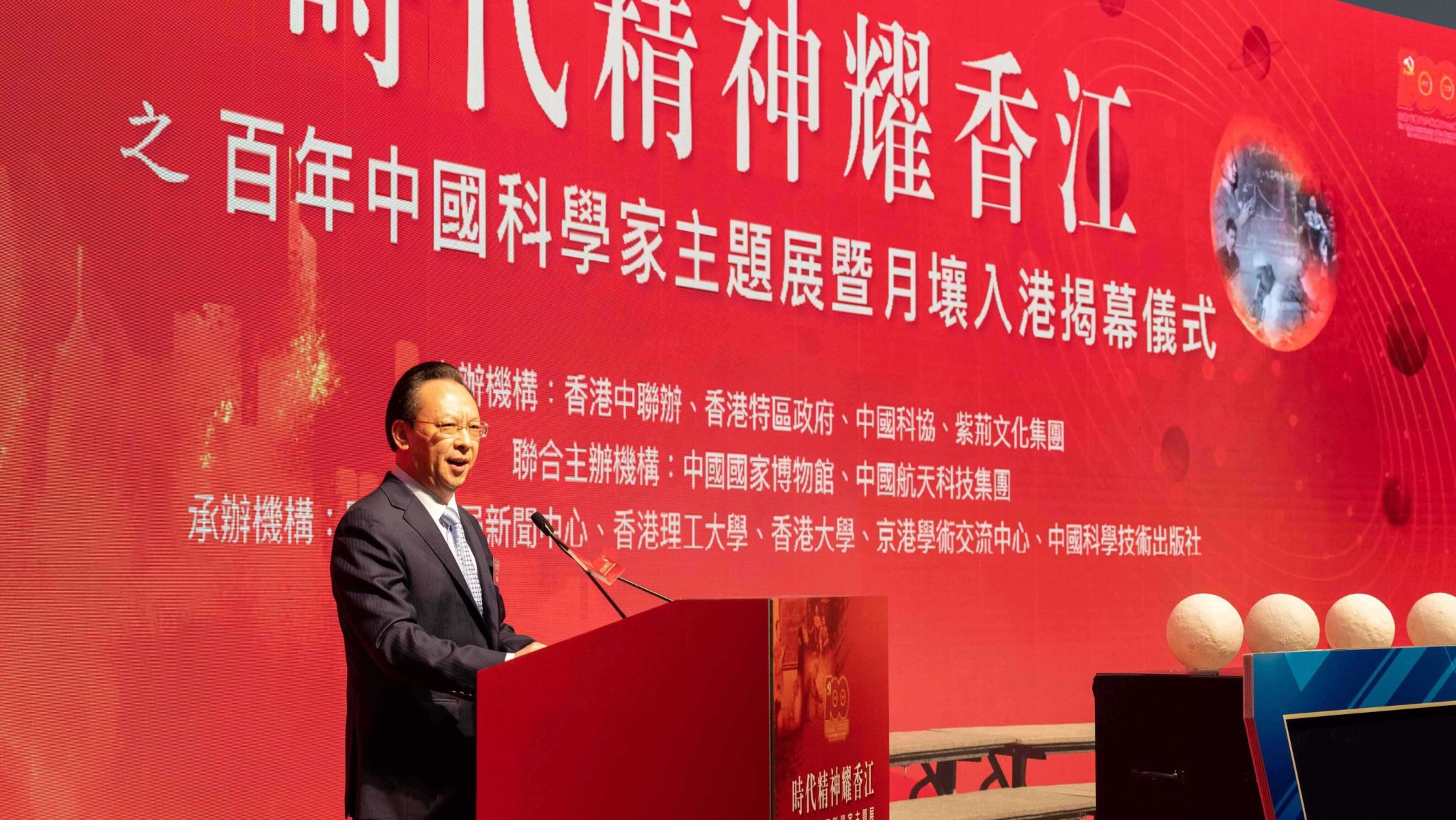 Dr Tan Tieniu praised PolyU for making significant contributions to China's lunar and Mars exploration programmes.
"I believe there will be more 'Hong Kong wisdoms' and 'Hong Kong solutions' in the Nation's drive for innovation," he added.
In the words of the University's President Professor Jin-Guang Teng: "PolyU will strengthen its support to our science researchers as they strive to participate in the country's astronautical and related areas' research and development, with the aspiration to contribute to the Nation's advancement."