Human Digital Twin towards Human-Cyber-Physical Systems
Distinguished Research Seminar Series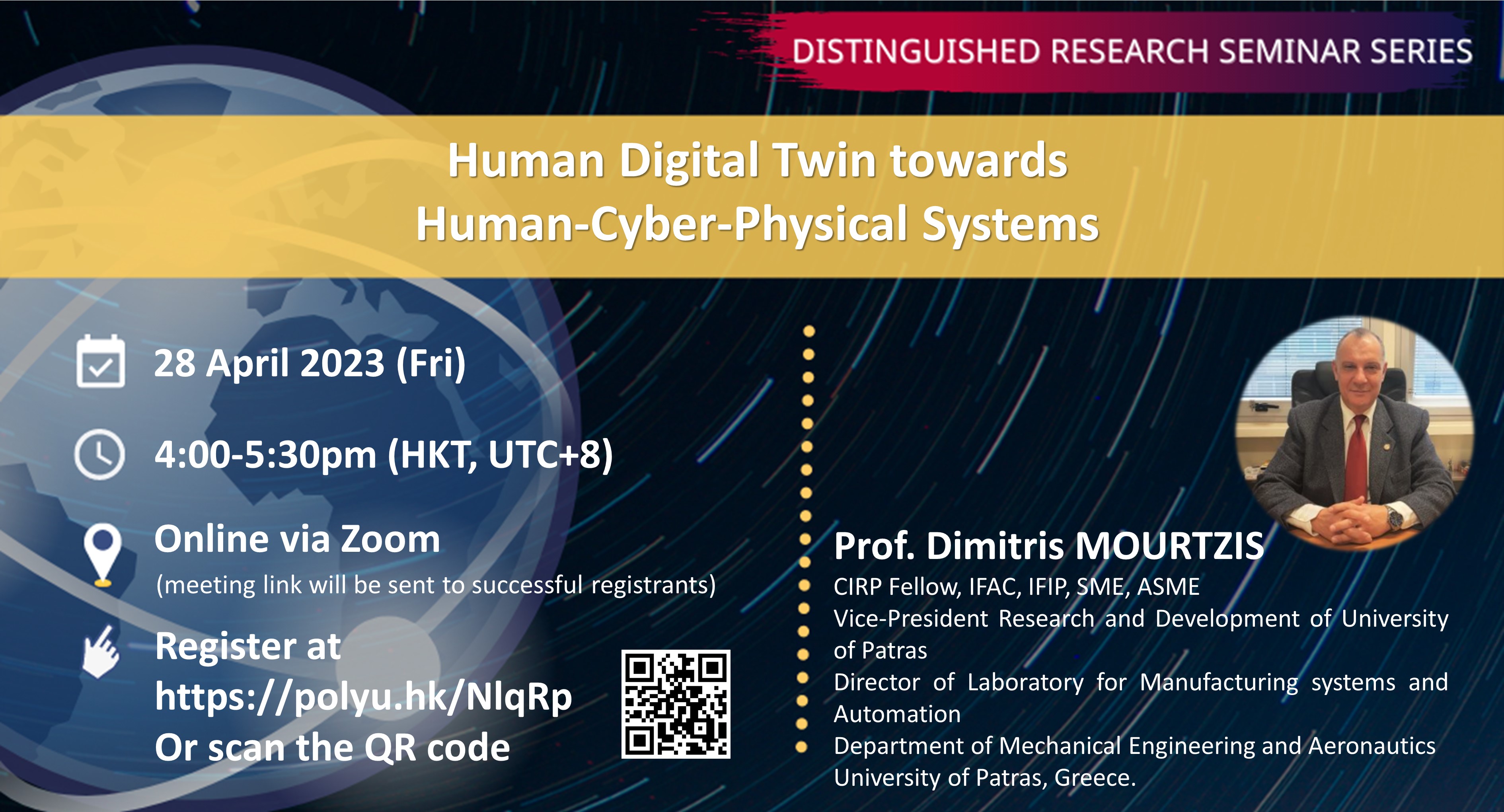 Organiser

Department of Industrial and Systems Engineering, PolyU; Research Institute for Advanced Manufacturing (RIAM)
Speaker
Prof. Dimitris MOURTZIS
Remarks
Meeting link will be sent to successful registrants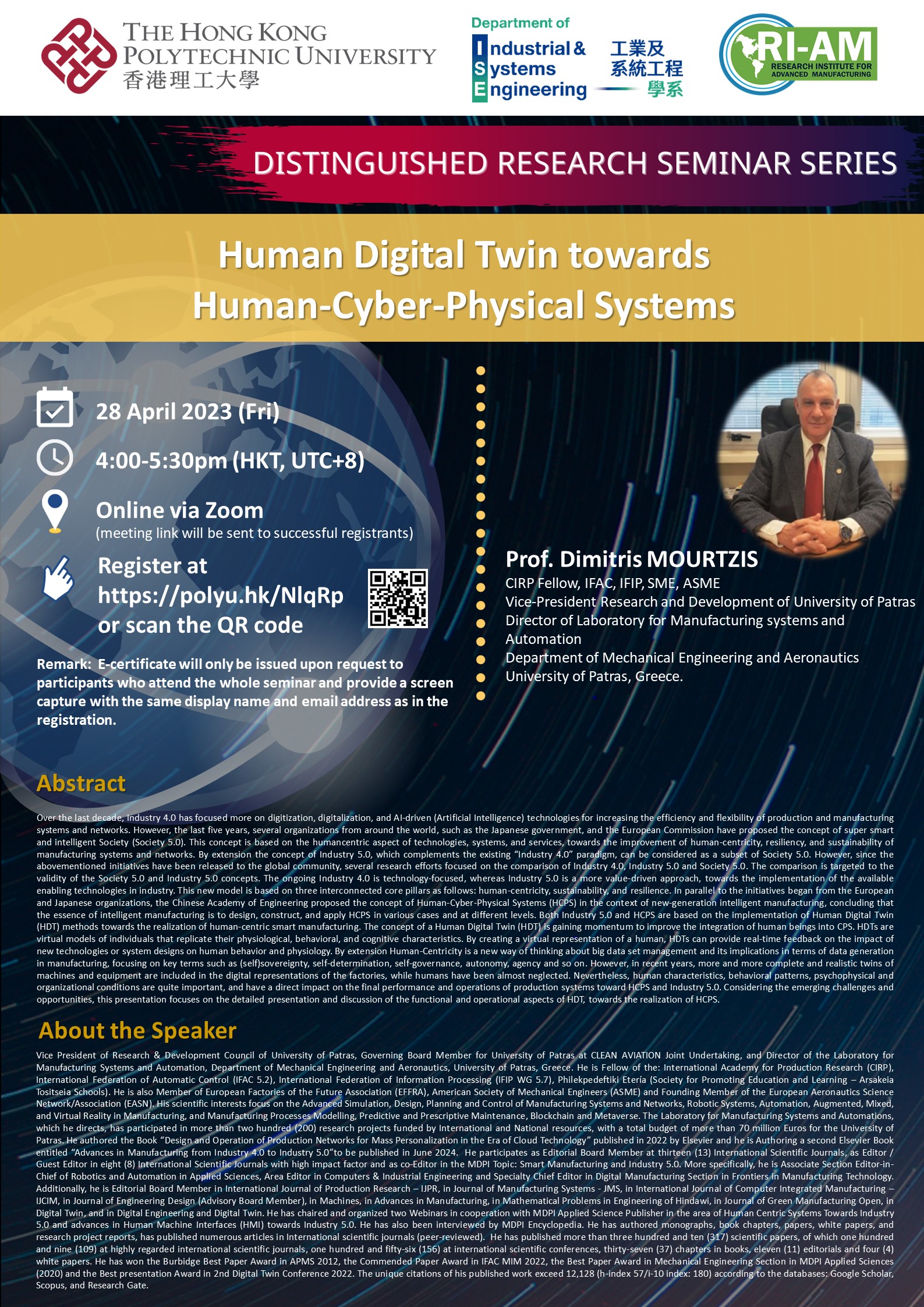 Summary
Over the last decade, Industry 4.0 has focused more on digitization, digitalization, and AI-driven (Artificial Intelligence) technologies for increasing the efficiency and flexibility of production and manufacturing systems and networks. However, the last five years, several organizations from around the world, such as the Japanese government, and the European Commission have proposed the concept of super smart and intelligent Society (Society 5.0). This concept is based on the humancentric aspect of technologies, systems, and services, towards the improvement of human-centricity, resiliency, and sustainability of manufacturing systems and networks. By extension the concept of Industry 5.0, which complements the existing "Industry 4.0" paradigm, can be considered as a subset of Society 5.0. However, since the abovementioned initiatives have been released to the global community, several research efforts focused on the comparison of Industry 4.0, Industry 5.0 and Society 5.0. The comparison is targeted to the validity of the Society 5.0 and Industry 5.0 concepts. The ongoing Industry 4.0 is technology-focused, whereas Industry 5.0 is a more value-driven approach, towards the implementation of the available enabling technologies in industry. This new model is based on three interconnected core pillars as follows: human-centricity, sustainability, and resilience. In parallel to the initiatives began from the European and Japanese organizations, the Chinese Academy of Engineering proposed the concept of Human-Cyber-Physical Systems (HCPS) in the context of new-generation intelligent manufacturing, concluding that the essence of intelligent manufacturing is to design, construct, and apply HCPS in various cases and at different levels. Both Industry 5.0 and HCPS are based on the implementation of Human Digital Twin (HDT) methods towards the realization of human-centric smart manufacturing. The concept of a Human Digital Twin (HDT) is gaining momentum to improve the integration of human beings into CPS. HDTs are virtual models of individuals that replicate their physiological, behavioral, and cognitive characteristics. By creating a virtual representation of a human, HDTs can provide real-time feedback on the impact of new technologies or system designs on human behavior and physiology. By extension Human-Centricity is a new way of thinking about big data set management and its implications in terms of data generation in manufacturing, focusing on key terms such as (self)sovereignty, self-determination, self-governance, autonomy, agency and so on. However, in recent years, more and more complete and realistic twins of machines and equipment are included in the digital representations of the factories, while humans have been almost neglected. Nevertheless, human characteristics, behavioral patterns, psychophysical and organizational conditions are quite important, and have a direct impact on the final performance and operations of production systems toward HCPS and Industry 5.0. Considering the emerging challenges and opportunities, this presentation focuses on the detailed presentation and discussion of the functional and operational aspects of HDT, towards the realization of HCPS.
Keywords
Society 5.0, Industry 5.0, Human Centricity, Human Digital Twin, Human Cyber Physical Systems, Intelligent Manufacturing
Keynote Speaker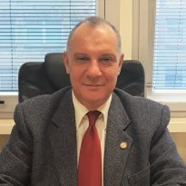 Prof. Dimitris MOURTZIS
CIRP Fellow, IFAC, IFIP, SME, ASME
Vice-President Research and Development of University of Patras
Director of Laboratory for Manufacturing systems and Automation
Department of Mechanical Engineering and Aeronautics
Vice President of Research & Development Council of University of Patras, Governing Board Member for University of Patras at CLEAN AVIATION Joint Undertaking, and Director of the Laboratory for Manufacturing Systems and Automation, Department of Mechanical Engineering and Aeronautics, University of Patras, Greece. He is Fellow of the: International Academy for Production Research (CIRP), International Federation of Automatic Control (IFAC 5.2), International Federation of Information Processing (IFIP WG 5.7), Philekpedeftiki Etería (Society for Promoting Education and Learning – Arsakeia Tositseia Schools). He is also Member of European Factories of the Future Association (EFFRA), American Society of Mechanical Engineers (ASME) and Founding Member of the European Aeronautics Science Network/Association (EASN). His scientific interests focus on the Advanced Simulation, Design, Planning and Control of Manufacturing Systems and Networks, Robotic Systems, Automation, Augmented, Mixed, and Virtual Reality in Manufacturing, and Manufacturing Processes Modelling, Predictive and Prescriptive Maintenance, Blockchain and Metaverse. The Laboratory for Manufacturing Systems and Automations, which he directs, has participated in more than two hundred (200) research projects funded by International and National resources, with a total budget of more than 70 million Euros for the University of Patras. He authored the Book "Design and Operation of Production Networks for Mass Personalization in the Era of Cloud Technology" published in 2022 by Elsevier and he is Authoring a second Elsevier Book entitled "Advances in Manufacturing from Industry 4.0 to Industry 5.0"to be published in June 2024.  He participates as Editorial Board Μember at thirteen (13) International Scientific Journals, as Editor / Guest Editor in eight (8) International Scientific Journals with high impact factor and as co-Editor in the MDPI Topic: Smart Manufacturing and Industry 5.0. More specifically, he is Associate Section Editor-in-Chief of Robotics and Automation in Applied Sciences, Area Editor in Computers & Industrial Engineering and Specialty Chief Editor in Digital Manufacturing Section in Frontiers in Manufacturing Technology. Additionally, he is Editorial Board Member in International Journal of Production Research – IJPR, in Journal of Manufacturing Systems - JMS, in International Journal of Computer Integrated Manufacturing – IJCIM, in Journal of Engineering Design (Advisory Board Member), in Machines, in Advances in Manufacturing, in Mathematical Problems in Engineering of Hindawi, in Journal of Green Manufacturing Open, in Digital Twin, and in Digital Engineering and Digital Twin. He has chaired and organized two Webinars in cooperation with MDPI Applied Science Publisher in the area of Human Centric Systems Towards Industry 5.0 and advances in Human Machine Interfaces (HMI) towards Industry 5.0. He has also been interviewed by MDPI Encyclopedia. He has authored monographs, book chapters, papers, white papers, and research project reports, has published numerous articles in International scientific journals (peer-reviewed).  He has published more than three hundred and ten (317) scientific papers, of which one hundred and nine (109) at highly regarded international scientific journals, one hundred and fifty-six (156) at international scientific conferences, thirty-seven (37) chapters in books, eleven (11) editorials and four (4) white papers. He has won the Burbidge Best Paper Award in APMS 2012, the Commended Paper Award in IFAC MIM 2022, the Best Paper Award in Mechanical Engineering Section in MDPI Applied Sciences (2020) and the Best presentation Award in 2nd Digital Twin Conference 2022. The unique citations of his published work exceed 12,128 (h-index 57/i-10 index: 180) according to the databases: Google Scholar, Scopus, and Research Gate.