Message from the President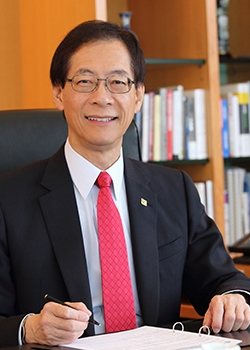 When The Hong Kong Polytechnic University was founded as the Government Trade School in 1937, it was the first publicly-funded institution offering post-secondary technical education in Hong Kong. Now, after eight decades of hard work by our dedicated staff, committed alumni, talented students and the unfailing support from our local, Chinese mainland and overseas partners, PolyU has become one of the top universities in Asia. Our status and our reputation are well-earned and every member of the PolyU family can be justly proud of it.
Over the years, PolyU has been moving with the times and faithfully adhering to the role of a university operating in an environment characterized by change and complexity. Our teaching and learning have been continuously evolving in line with the social and economic changes of Hong Kong and the region. Our research is also closely tied to the needs of our community and the wider world. We are keen to turn innovative ideas to practical use, bringing benefit to mankind. We also boast strong connections with the community, as well as business and industrial sectors, enabling us to keep abreast of the latest developments.
PolyU is a university full of momentum and excitement. Among our 380,000 graduates, 5,400 staff and 30,000 students, we have scientists, entrepreneurs, Olympic athletes, artists, engineers, designers, hoteliers, healthcare professionals, volunteers, philanthropists and many more. Their vision and their dreams, their passion and their energy have contributed to the many glorious chapters of our University and have shaped the future of our society and our world.
Starting from November 2016, we will be launching a year-long celebration of PolyU's 80th anniversary with a series of activities, including international symposia, Nobel Laureate lectures, community service programmes, exhibitions and get-together occasions for the PolyU family and the wider community. These landmark events are all orchestrated to reflect our University's promise for education and research: "Opening Minds • Shaping the Future".
We look forward to having you join our celebratory activities as well as your continued support as we move forward.
Timothy W. Tong, Ph.D.
President