Model and Capacity Building for Intergenerational Digital Literacy Training for Older Adults in Hong Kong
Project Duration: 1 Oct 2021 to 31 Mar 2024
Project Description:
From the insights of the huge intergenerational digital literacy gap and yet crucial especially in the middle of global pandemic, we believe that incorporating the intergenerational interaction into the process of digital inclusion for older adults, can significantly increase the digital participation of older adults, narrow the generational digital gap, and improve physical and mental well-being as well as quality of life of both parties. Guided by the Theory of Learning (Illeris, 2003) and Senior Technology Acceptance Model (Chen & Chan, 2014), we will co-design and co-implement multifarious and differentiated ICT training courses and immersive extracurricular activities with pioneers in various sectors, where older adults can co-learn with their peers and the younger generation in joyful multigenerational-empowering learning setting. Finally, this programme aims at creating an evidence-based sustainable intergenerational digital inclusion training model by capitalizing validated research findings collected within, which can ultimately entail the institutional capacity building for different sectors in digital inclusion.
Project Objectives:
Multigenerational Empowerment, Effective Model Development, Institutional Capacity Building
To boost the self-efficacy, autonomy, and social connectedness of older adults from different socioeconomic backgrounds in Hong Kong by increasing their digital literacy;
To increase confidence and competence in interactions with the other generation;
To increase young people's awareness of and sensitivity to ageing and its relevance to their career building;
To enhance intergenerational solidarity both within families and in communities and society.
To build an evidence-based sustainable intergenerational digital inclusion training model contributing to individual empowerment and institutional capacity building.
Funded by The Social Innovation and Entrepreneurship Development Fund (SIE Fund)
For inquiries, please contact
Dr Bai Xue (PI) at This email address is being protected from spambots. You need JavaScript enabled to view it. (tel: 3400 3694)
Dr Ada Fung (Co-I) at This email address is being protected from spambots. You need JavaScript enabled to view it. (tel: 2766 5744)
Ms LIN Jingyi, Joyce (Project Coordinator) at This email address is being protected from spambots. You need JavaScript enabled to view it. (tel: 3400 8968)
Ms SHEK Sin-ying, Janis (Project Assistant) at This email address is being protected from spambots. You need JavaScript enabled to view it. (tel: 3400 8972)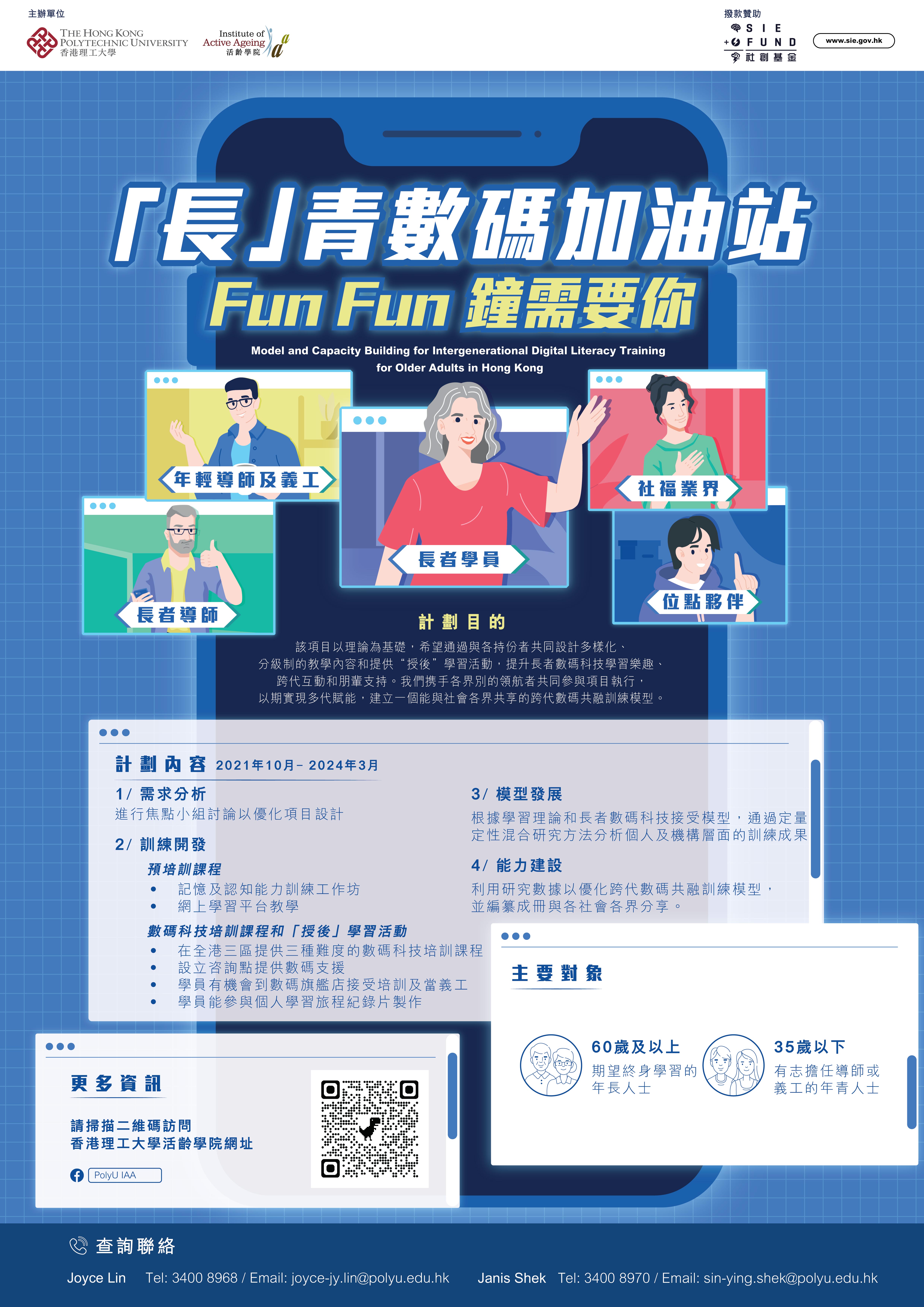 More event highlights