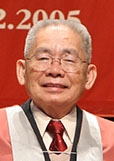 2004 University Fellow
Dr Fong Yun Wah
SBS, JP
Prominent philanthropist Dr Fong Yun Wah is the Chairman of the Hip Shing Hong Group of Companies and the Kam Wah Investment Company Limited. Based in Hong Kong and under the guidance of his father Mr Fong Shu Chuen, he managed his family business for several decades with notable success and substantial contribution to the business community.
Dr Fong has keen interest in promoting the well-being of the community and, in particular, education. Through the Fong Shu Fook Tong Foundation and the Fong's Family Foundation, he dedicated much efforts to the development of education at all levels, and encouraged young people to work hard and seek continuous improvement. Dr Fong has also served as council member or fundraising adviser for many local tertiary educational institutes. A member of the Hong Kong Pei Hua Education Foundation, Dr Fong is enthusiastic to promote academic exchange between Hong Kong and the Chinese mainland. He serves as honorary professor and adviser to dozens of prestigious institutions in the Chinese mainland.
In recognition of his outstanding contributions, Dr Fong received the coveted honour as one of the Ten Champions in Charity of China in 1997, the second Hongkonger who had this honour. The University treasures our longstanding friendship with the Fong family, and acknowledges the family's generous donations towards our development in the past several decades.