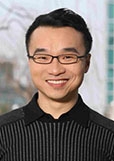 2004 University Fellow
Mr Raman Hui Shing Ngai
Mr Raman Hui, 1984 graduate of the Higher Diploma in Design (Graphic Communication) course of the then Hong Kong Polytechnic, began his career in digital animation shortly after graduation. He worked as a graphic designer, animator and TV animation director and created several advertisements and short animated educational films.
Mr Hui set off for Hollywood in the United States in 1989 to further develop his career. Starting off an animator, Mr Hui has now become Supervising Animator of DreamWorks. He played an important role in the production of the world's second computer-animated film Antz, 2002 Oscar-winning "Best Animated Feature" Shrek I, and Shrek II. The three films were all international blockbusters. His zealous efforts and fortitude has led him to outstanding achievements, bringing honour and glory both to himself and to his homeland.
In support of his alma mater, Mr Hui has made valuable contributions to PolyU's School of Design. Mr Hui was awarded the Distinguished Design Alumni Award by the School in 2004.