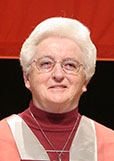 2004 University Fellow
Sister Helen Marie Kenny
MA, BS, R.N.
Sister Helen Marie Kenny, an important driving force behind the development of nursing in Hong Kong, has joined the local nursing field since 1960. Sister Kenny has registered as a nurse in Hong Kong, the United States and Canada. She has served Our Lady of Maryknoll Hospital for over 30 years, during which she has been actively involved in professional education and administration work.
Apart from her remarkable contribution to the long-term development of nursing, Sister Kenny shows great care for the community. She holds office as executive committee member, consultant and board member in various non-governmental organizations, such as The Keswick Foundation, Make-A-Wish Foundation of Hong Kong, Society for AIDS Care and Society for the Promotion of Hospice Care.
Sister Kenny is particularly concerned about the welfare of dying patients. Her dedicated efforts contributed much to the founding of Bradbury Hospice as the first institution in Hong Kong to provide specialist hospice care for dying patients in 1992.