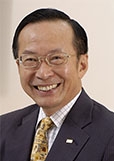 2006 University Fellow
Ir Otto Lok To Poon
BBS, OBE
Mr Otto Poon is Founder and currently Managing Director of the Analogue Group of Companies, which is a multinational engineering operation. Established in 1977, the Group is headquartered in Hong Kong and has a staff of 1,500, with business interests in the Chinese mainland, South East Asia, North America and Europe.
Mr Poon's distinguished professional achievements and important contributions to the community were deservedly recognized in 1999 when he received an Outstanding PolyU Alumni Award. Mr Poon keenly supports his alma mater by actively participating in its alumni activities and making donations for student scholarships. He is also currently a Member of the Advisory Committee of the University's Department of Electrical Engineering.
With over 40 years of experience in electrical and mechanical engineering, Mr Poon is actively involved in public service related to his professional field. He is Chairman of the Strategy Sub-committee of the Council for Sustainable Development of the HKSAR, Member of the Trustee Board of the Institution of Mechanical Engineers of the UK, and Past President of The Hong Kong Institution of Engineers. Mr Poon was awarded the Bronze Bauhinia Star by the HKSAR Government in 2003 in recognition of his dedicated public and community service, as well as his invaluable contribution to environmental protection.
(on behalf of the 2006 University Fellowship recipients)
Mr Lo, Professor Poon, Honoured Guests, Ladies and Gentlemen,
It is indeed a great honour to receive this Fellowship from The Hong Kong Polytechnic University. I do not know why I was chosen to speak on behalf of all the recipients of this prestigious recognition; perhaps it is due to the fact I had been associated with the University earlier than the others, or it is a matter of seniority age-wise. Whatever is the reason, it is an even greater honour to be given the opportunity to speak on behalf of them.
The recipients for the Fellowship this year come from different sectors of the community; all have achieved great success in their respective fields. It therefore took me quite some time to find a subject that could express the aspiration of this diverse group of University Fellows. As I am an engineer by profession, I think the development of the modern economy and the future well-being of mother earth may be a subject that may hit a resonant chord in the minds of many of us here today.
As we all know, the developed world moved from an agricultural era to the industrial economy in the mid nineteenth century with the invention of steam engine. The world's economy grew rapidly in the following 150 years driven by intensive use of resources and fossil fuels. Then came the computer and information technology in the last three decades of the twentieth century. One would have thought that with the development of this knowledge-based economy, we would be less dependent on energy. This has proven not to be the case: we are just as thirsty for natural resources as ever before. This indiscriminate use of resources coupled with population growth in the developing countries will deplete earth's finite resources, generating many environmental problems, none of which is more serious than air pollution.
At the International Conference on Climate Change (ICCC 2007) held in Hong Kong at the end of last month, the Fourth Report of the Intergovernmental Panel on Climate Change (IPCC) was presented to the delegates. It has been proven beyond reasonable doubts that the burning of fossil fuels is causing global warming and climate change. CO2 in the atmosphere had risen from 280ppm at the dawn of the Industrial Revolution to the current level of 390ppm. If we carry on business as usual, it was estimated that CO2 in the atmosphere would reach some 550ppm by the end of the century and the average atmospheric temperature may increase by some 5 degrees Celsius. The consequences will be melting of the ice caps, rise of sea water level by 5 to 7 metres, increase in frequency and intensity of severe weather, flood and drought, shortage of water and food supply, migration of hundreds of millions of people living in the low-lying lands, reemergence of known diseases and probable incubation of new viruses. All this will impact on the survival of many plant and animal species.
As the rise of CO2 in the atmosphere is closely linked with the burning of fossil fuels and before the world's scientists and engineers could come up with an alternative source, safe and reliable energy, (such as nuclear fusion) that could substantially replace the fossil fuels, all we can do is to conserve energy, which means we have to use less; we have to be more energy efficient, which means we have to do more with less; then we need to actively promote renewable or carbon neutral energy sources. Renewable energy will not be able to replace fossil fuels, but it would at least contribute to alleviate the problem. The goal is to contain the temperature rise to 2 degrees Celsius by 2100.
As we know, we human beings are animals of habit; we have through many centuries created wealth for our own security. As the economies of the developed countries grow, many of us have more than we would ever need. The earth can sustain our needs but never our greed. Instead of being generous with ourselves, I believe it is time for us to be more generous with nature. We have been exploiting our mother earth for too long, and she is fighting back.
We need to change our habit of an energy and resource intensive economy; we need to develop energy-saving technologies and apply them to improve on energy intensity; we need a new way of calculating wealth, taking natural capital into consideration; we need the institutional and legal framework to implement changes.
According to the world's scientific community, there is only a window of opportunity of some three decades before we would tip the balance of nature. Urgent actions are needed now. We can no longer talk the talk; we need to walk the talk.
The Hong Kong Polytechnic University plays a leadership role, among other things, in engineering, design, manufacturing, accounting and, public health education. With many hundred thousands of graduates in active service in many sectors of our local and neighbouring communities, our University is in a unique position to influence the professionals, businesses and governments in Hong Kong, Pearl River Delta and beyond. We can and should take an active part in supporting a more sustainable world.
We all have the responsibility to leave to our children and grandchildren a world that is at least no worse than it is today. I am an optimist by nature and I believe each and every one of us can do our part and to create a better tomorrow. I therefore am truly delighted to have the opportunity to share with you some of the issues that are very close to my heart. I hope my short talk will give all of us food for thought as to how to create a sustainable world for the decades to come.
Taking the opportunity of its 70th anniversary, I would on behalf of the recipients of the Fellowship thank the University for providing us with the knowledge to make our contribution to the community; to congratulate The Hong Kong Polytechnic University, its Council, the academic and research staff for their achievements; and wish the University greater success in the years to come.
Thank you.