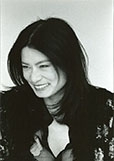 2006 University Fellow
Ms Vivienne Yin Yok Tam
Ms Vivienne Tam, a world-renowned fashion designer, graduated from the then Hong Kong Polytechnic in 1978 with a Higher Diploma in Design. After graduation, she moved to New York, where she thrived on the excitement and energy of the fashion world. Ms Tam founded her own fashion house East Wind Code Ltd in 1983 and in 1994 established the "Vivienne Tam" brand.
Ms Tam is internationally recognised for her innovative and signature East-meets-West designs. All of her collections are prominently labelled "Made in Hong Kong" or "Made in China", and she continually promotes the use of Asian women as models in her promotional campaigns. In 1995, Ms Tam introduced the "Mao" collection, which triumphantly crossed over from the fashion world into the art world. Two years later, she launched the "Buddha" collection, which once again stimulated the interest of celebrities and the fashion-conscious. Such has been her influence that some of her works have been incorporated into the permanent archives of the Andy Warhol Museum in Pittsburgh, The Museum at FIT, the Metropolitan Museum of Art in New York, and the Victoria and Albert Museum in London.
Ms Tam was a recipient of the Outstanding PolyU Alumni Award in its first selection in 1997. Despite her busy schedule, she still maintains close links with her alma mater. When she visits Hong Kong, she often shares her professional know-how and experiences with our students.