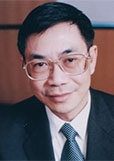 2006 University Fellow
Dr Lee Kang Kuen
Dr Lee Kang Kuen is an important figure in the development of the railway system in Hong Kong. Currently Senior Director-Capital Projects of the Kowloon-Canton Railway Corporation (KCRC), he has played a key role not only in introducing the electrified railway service in the early 1980s, but also in managing major infrastructure projects such as the Ma On Shan Rail, the Tsim Sha Tsui Extension, the Lok Ma Chau Spur Line and the Kowloon Southern Link. He is currently collaborating with PolyU researchers in developing the Smart Railway Network, a new fibre optic sensor system which seeks to provide a safe, reliable railway service for the public.
Dr Lee's close links with PolyU began in 1969 when he earned a Higher Certificate in Electrical Engineering from the then Hong Kong Technical College, which is a predecessor of PolyU. He received a Master of Science Degree from PolyU in 1994 and a Doctorate in Engineering in 2006. He was Chairman of the Departmental Advisory Committee of our Department of Electrical Engineering from 1999 to 2002, and is now Adjunct Professor of the Department. Dr Lee continues to contribute his experience and expertise to his alma mater by serving as a mentor to a number of PolyU graduates. He always encourages the younger generation to reach their full potential through learning, and he himself is without a doubt a role model for lifelong learning.
Dr Lee is a founding member of the local section of The Institution of Engineering and Technology Hong Kong and a Fellow of the Hong Kong Institution of Engineers. He has also given distinguished service to many public bodies, including the Vocational Training Council's Committee on Apprenticeship and Trade Test and the Registration Board for Construction Workers.